Sit-in protest in front of UN office in Geneva enters 16th month
The sit-in protest in front of the United Nations demanding the freedom of Kurdish people's leader Abdullah Öcalan has entered its 16th month.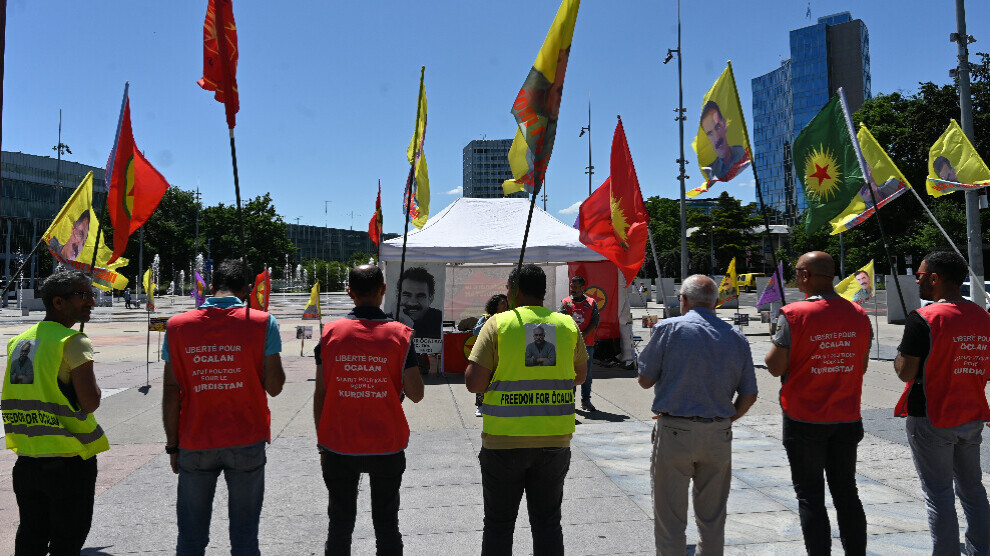 Since 25 January 2021, a sit-in in front of the UN has been held as part of the "Dem dema azadiye" initiative by the Kurds every Wednesday.
In the action, the resistance of the PKK guerrillas against the attacks by the Turkish on Kurdistan, especially the Medya Defense Areas, with the cooperation of the KDP, was supported, while the silence of the UN in the face of the attacks was protested.
The action held this week started with a minute's silence in memory of the martyrs of the Kurdistan Freedom Struggle, especially the May Martyrs.
Co-chair of Geneva Democratic Kurdish Community Center, Mülkiye Bulut, made a speech after a moment of silence.
Bulut said: "We know very well what is targeted by these war crimes. The concept of attack carried out by the Turkish state with the partnership of the KDP, using the PKK as an excuse, actually aims to eliminate the gains of the Kurdish people. We will not accept the silence of the UN and the European institutions. As Kurdish mothers, Kurdish women, and the Kurdish people, we will continue to shout our belief in the guerrilla struggle. "
Co-chair Erdal Atasoy also took the floor and called for participation in the central commemoration to be held in Grenchen on May 29 for the Martyrs of May, especially Haki Karer and Dörtler.