Situation of hunger strikers critical: let's be their voice
The hunger strike resistance launched by HDP MP Leyla Güven in Amed has spread to the prisons, Bashur (South Kurdistan), Europe and many parts of the world.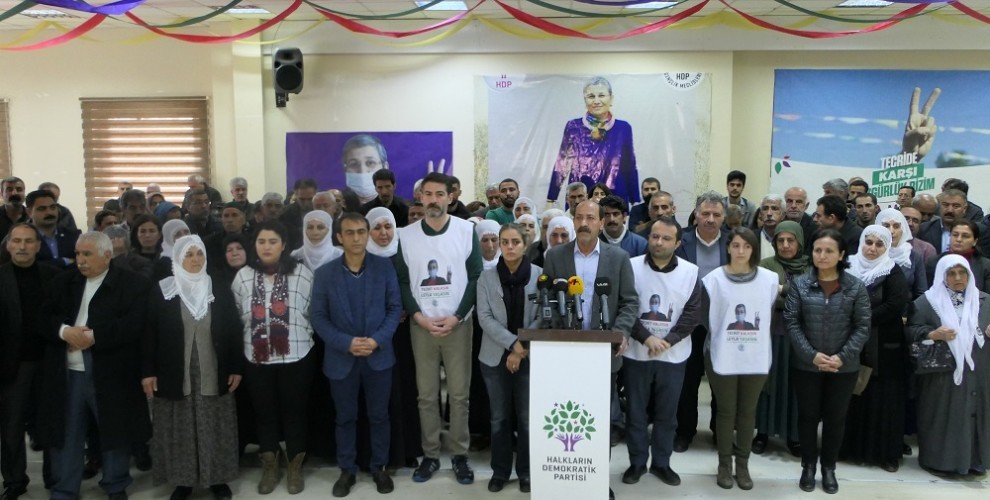 A press conference was held at the HDP Amed provincial building after the police raid on Thursday and the arrest of three activists on hunger strike.
HDP deputies, Tevgera Jinen Azad (TJA), HDP co-mayoral candidates, HDP and Democratic Regions Party (DBP) district executives and hundreds of prisoners' families attended the press conference. Police surrounded the building with armored and anti-riot vehicles.
Let's be the voice of the resistance
HDP Amed MP Musa Farisoğullari explained the ongoing process which began with the hunger strike launched by HDP Hakkari MP Leyla Guven who has been on hunger strike for 128 days.
Farisoğulları said: "The hunger strike resistance has spread to the prisons, Bashur (South Kurdistan), Europe and many parts of the world. Hunger strikers are now beyond the critical phase. They have been harassed and put under pressure but the resistance is continuing. Yes, we are faced with pressure and attacks, but our struggle will not end, we will continue. Let our people know once again that the situation of the activists is critical. Let's be their voice. Let's raise the resistance everywhere and break the silent."
Farisoğulları stated that there were many hunger strikers in the provincial building when it was raided by the AKP and MHP fascism. He added: "They cannot stop our resistance. We will stand by the resistance and won't accept any martyrdom."
Hunger strike everywhere
HDP Batman MP Ayşe Acar Başaran said that from 1 March thousands of prisoners have gone on hunger strike joining the activists fasting all around the world.
Başaran said: "We have carried the hunger strikers' demands everywhere. The isolation imposed on Imralı is imposed on the whole society. Thousands of our comrades under the leadership of Leyla Güven are fasting to create a climate of peace. The information we are receiving is of more and more friends suffering from weakness, difficulty walking, bleeding, stomach cramps. In Van, Tarsus, Amed, Gebze prisons the first group of comrades on hunger strike have serious health problems."
Başaran also said that Cihan Tamur is one of the 152 prisoners on hunger strike in Van. He is in his 90th day of fast and he has a sore in the body, a kidney problem, and bleeding.
Azim Sökemenli is complaining of stomach cramps, teeth tingling, and difficulty in taking sugar and salt.
Dılbrin Turgut in Tarsus prison has vomited blood twice already.
One minute is crucial
Başaran emphasized that even a minute is important. "The activists are on hunger strike to give life. The first group in prison said they were threatened, but they reiterated that the resistance won't end. The State has to comply with its own laws and accept the demand of the hunger strikers. End isolation of Mr. Öcalan before things get worse. Our people should show sensitivity. Our friends did not go on hunger strike for their personal gain, on the contrary, we started this action in order to end the isolation and silence against us. Let's give voice to their voice."