Strasbourg hunger strikers experiencing various health problems
"Since activists do not accept any treatment, any inflammation can spread to the lungs. This is the situation that frightens us the most. We talked to the activists about giving them treatment for this condition, but the activists responded negatively."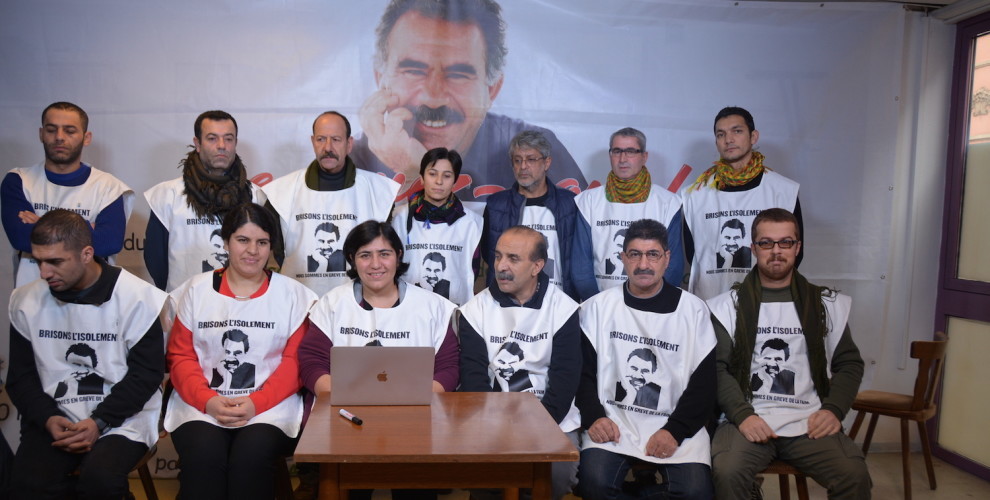 Dr. Fahrettin Gülşen, who is looking after the health of the 14 hunger strikers in Strasburg talked about his worries.
"We can observe now - he said - in all hunger strikers a problem called 'Tinnitus' which is an ear problem. Likewise we observe nausea problems in almost all activists, while a few days back only some were complaining of it."
Doctor Fahrettin Gülşen also confirmed that activists are suffering from "high-low blood pressure, high-low pulse rate. This situation causes dizziness, weakness and insomnia. Some of the activists can sleep only 1-2 hours a day."
For an activist on a hunger strike, said the doctor, "these are serious symptoms, but clearly activists are refusing medical treatment. In most of the activists we can see tremors now. - added Doctor Gülşen - These are the early symptoms that we have identified on the 43rd day of fast", said the doctor who said to be quite concerned by the health of activists.
Talking about blood sugar levels, doctor Gülşen added: "We also found very serious fluctuations in blood sugar levels. For example, in activists with earlier blood glucose levels, we found increased blood glucose levels as days passed. We are concerned that the increase in blood sugar levels will cause irreversible damages in activists in the future and that related cardiac problems will arise."
Activists are also exposed to infections, as their immune defence system is weaker and this infection risk increased with the number of people visiting the activists.
Doctor Gülşen warned that even deaths may occur as they refuse treatment.
"Since activists do not accept any treatment, - said the doctor - any inflammation can spread to the lungs. This is the situation that frightens us the most. We talked to the activists about giving them treatment for this condition, but the activists responded negatively."
Doctor Gülşen said that the loss of weight is now very heavy and added that the lack of protein causes muscles fatigue, as well as problem with sight. Activists, he added, felt a need to stay in bed for an extended period of time.
Doctor Gülşen expressed concern over serious health problems and called on international health organizations to come and visit hunger strikers as soon as possible.
"Let me tell you. - said the doctor - The symptoms we detected were not normal for people fasting for 43 days. I accept the symptoms as early symptoms. I am concerned that these symptoms will lead to serious complications. We hope that the demands of the hunger strikers are met as soon as possible, and this action is ended without any further complications, without permanent damage."
Doctor Gülşen reiterated his call to international health institutions saying that they have not come to visit the hunger strikers, and stressed that this would be important to secure activists are assisted in the best way.