Thousands in Paris as march for Sakine, Fidan and Leyla kicks off
Kurds and their friends flocked to Paris to protest against the murder of three Kurdish female revolutionaries on the 7th anniversary of their death.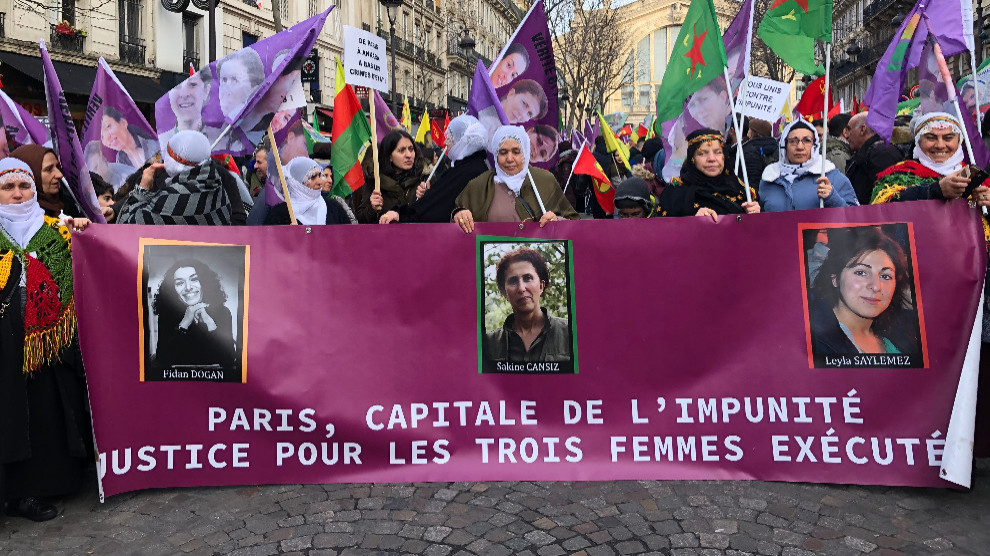 Events have been organized for the Kurdish women revolutionaries Sakine Cansız, Fidan Doğan and Leyla Şeylemez who were murdered on 9 January 2013 in Paris.
Commemoration events are organized with the slogan "We have enough of seven years of impunity".
The main memorial activity organized by TJK-E is the march in Paris which is about to begin. People gathered at the Gare Du Nord and will start moving at 11 towards Rebuplique Square for the final rally.
Thousands of women and young people reached Paris, many traveling overnight by bus, train and private vehicles from Germany, Switzerland, France, Belgium, the Netherlands, Austria and the UK.
Banners condemning the massacre, as well as photos of Sakine Cansız, Fidan Doğan and Leyla Şeylemez are carried by activists.
Kurdish activists reiterated their pledge to struggle until justice is done and the responsible of the murders, namely the government of Turkey and the country's secret services, MIT, are brought to justice.
A large number of French people also join the commemoration event with the slogan, and many political and civil society organisation representatives sent solidarity messages.
At the moment there are already thousands of people at the Gare Du Nord, shouting slogans demanding justice for Sakine, Fidan and Leyla.