Tunç: Soldiers are threatening the villagers in Dersim to leave
AKP is burning Dersim, while environmental activists, the people and HDP try to protect the city. Artist Ferhat Tunç said the soldiers are trying to get the villagers to sign documents to leave the region.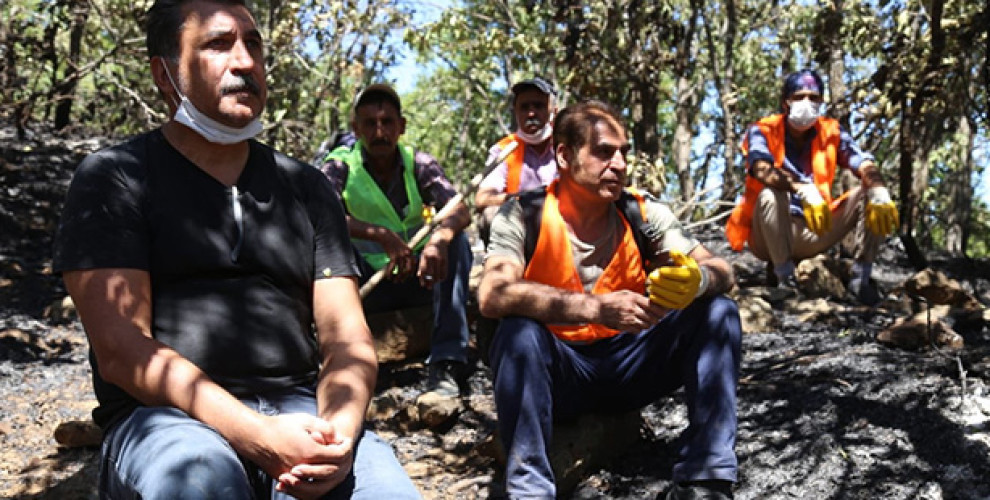 The AKP regime prevents people from putting out the forest fires they started in Dersim, and aims to spread the fires.
A committee of 10 MPs from the Peoples' Democratic Party (HDP) were to visit the area with the forest fires in the city but they were prevented by the soldiers and police closing the roads. The delegation held a protest and a press statement in the Seyit Riza Square. The delegation said, "This is not just an issue of burning forests or trees, this has no place even in law of war," and pointed out that the AKP acts in animosity against anybody who isn't with them, even the forests, and that the fires are part of the dirty war.
TUNCELI GOVERNORATE OBFUSCATES THE TRUTH
Tuncay Sonel has had a part in the burning of the city he is the governor of, and has made statements legitimizing the fires and obfuscating the truth. The Tunceli Governorate stopped the delegation from visiting the area, and blocked HDP MPs from their Twitter account.
TUNÇ: SOLDIERS ARE TRYING TO KICK THE VILLAGERS OUT
Artist Ferhat Tunç spoke to the ANF and said the fire that started in the Pulebargi region (Çiğ village) close to the Dersim city center last night has been taken under control by the incredible efforts of Dersim's environmental activists.
Tunç said: "The soldiers are telling the people in the villages to get out. A villager called me today and let me know. They wanted to get the villagers to sign documents but the villagers said this is their own land and tore out the papers."
Tunç stated that the AKP wants to depopulate the region: "They are trying to prevent the people who returned to their villages during the resolution process from living their lives here," said Tunç and added that the Tunceli Governor is being used to implement this policy.
Tunç said, "The state must remember that living beings in nature also have rights, and that this has been secured in international law."
Ferhat Tunç asked for more awareness and for the public to defend Dersim.
ÖNLÜ ISSUES CALL
HDP Dersim MP Alican Önlü issued a call in a written statement: "Dersim, humanity's common heritage, is under a new systemic and ruthless attack in front of the whole world to see. There is a crime against both humanity, and nature and all living beings here."
Önlü added: "The forest fires have raged on for weeks, and the armed soldiers and police stop the efforts to put them out under orders from the AKP government. Citizens are put under immense pressure. The city has been surrounded by soldiers and police with heavy weapons. This is like 1938 all over again. They are bombing mountains, blood runs rivers and people are dying."
Önlü protested the silence by the UN, the EU, the CoE, the UNICEF and other environmental organizations:
"I am calling on people of Dersim who live in Turkey's big cities, Europe and throughout the world, and on humanity as a whole to take urgent action. Dersim is a symol of freedom, democracy, gender equality and respect for nature. Let's defend the sacred sites, forests, water, nature, living beings, birds and wolves, and our graves in Dersim. Dersim is troubled, and you can let the whole world hear her voice. With the people standing up for days in Dersim, with the actions of our committee, and with you rising up wherever you are, we can save our city, our graves, our living beings and our ziyaret places ("visit"s, sacred sites) together, with a common voice."