Turkey problem with democracy discussed at Swiss Parliament
Speaking at a conference in the Swiss Parliament, the HDP, CHP and the Swiss Socialist Party deputies, called for international solidarity messages to be sent in view of the political process taking place in Turkey.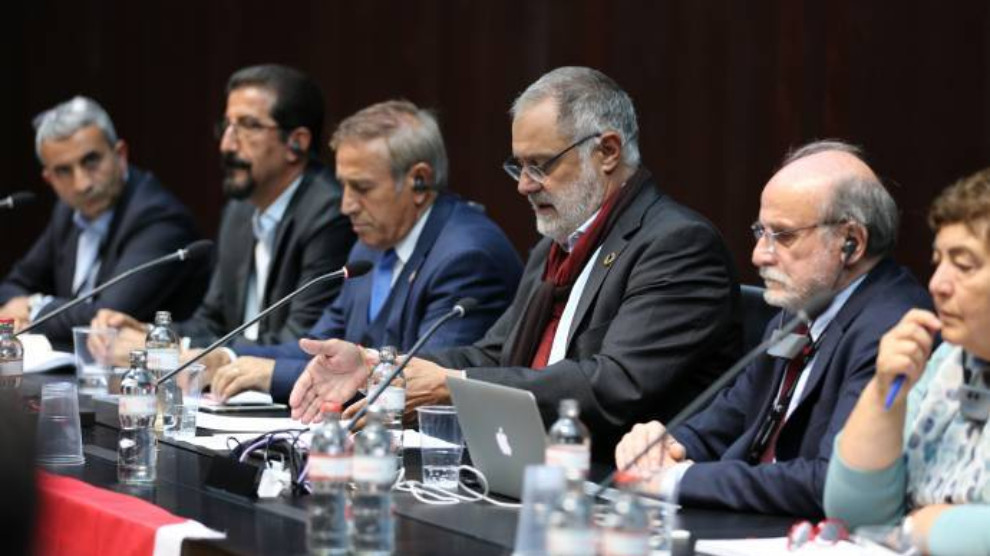 The Swiss Socialist Party organised a conference titled 'Equal opportunity, equal rights: a democratic Turkey for Everyone' in Bern.
HDP Honorary co-chair and former HDP Deputy Ertuğrul Kürkçü, Republican People's Party (CHP) Board Member and Ankara Deputy Yıldırım Kaya, former chairman of KESK Lami Özgen, HDP Local Governments co-chair Yurdusev Özsökmen, The Socialist Party (PS) National Parliament Member of Parliament Mustafa Atıcı and SP National Parliament Member Fabian Molina participated as speakers.
The conference was moderated by SP National Parliament Member Carlo Sommaruga and a large number of representatives of civil society organizations and members of the Swiss Parliament joined the event.
HDP Honorary co-chair and former HDP Deputy Ertuğrul Kürkçü began by asking whether "it is possible to live together with the Erdogan regime?"
Kürkçü added: "What we see in Turkey is not only specific to Turkey, Kurds and Turks. The global crisis, which has led to major power shifts on a global scale, provides advantages to regimes based on denial of democracy and rights on all continents. "
'This is a war'
Kürkçü reacted to the appointment of trustees to Diyarbakır, Van and Mardin Municipalities saying: "This is a war. In Turkey elections, the judiciary, politics, administration, are used as a weapon. The goal of the ruling AKP-MHP alliance is the building of a dictatorship."
CHP Ankara MP Yıldırım Kaya said that the AKP "considers whoever is different and has different views from itself as terrorist."
Former KESK General President Lami Özgen, noting that the state of emergency continued, especially against the Kurds in Turkey, said the threats now are reaching the CHP as well.
The Swiss Socialist deputies called for international solidarity.