Turkish drone war not possible without German help
A research of the Monitor news magazine shows that the German government has massively helped Turkey to produce even modern armed drones by supplying warheads.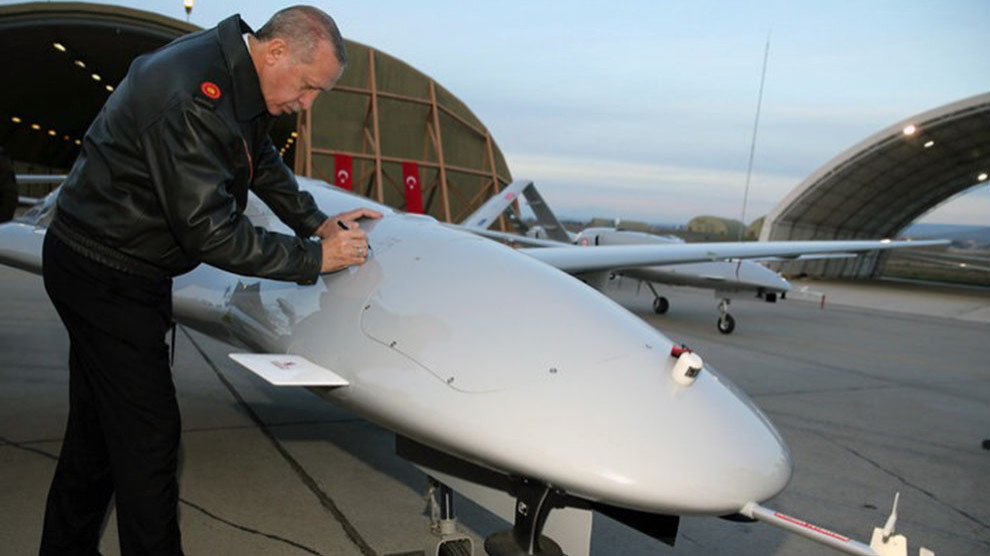 Turkey is now at war in many countries. Azerbaijan, Southern Kurdistan, Northern Syria, Northern Kurdistan, Yemen and Libya are only some of the regions where Turkey is actively waging war. Armed drones have become the core element of Turkish aggression. Again and again so-called combat and reconnaissance drones massacre civilians in their lands, whether in Syria or Libya or in Northern Kurdistan. Guided missiles launched by drones are responsible for many Turkish war crimes - especially in Western Kurdistan/Northern Syria and Southern Kurdistan/Northern Iraq. In late June, three activists Zehra Berkel, Hebûn Mele Xelîl and Amina Waysî were the victims of an extrajudicial execution by a Turkish armed drone in Kobanê. In Kuna Masi near Sulaymaniyah, two people died a little later, and another eight people were injured, some of them seriously. One of the dead was a member of the East Kurdistan party PJAK.
"Turkey one of the most advanced new users of armed drones"
Brian Castner, weapons expert of Amnesty International, told the Monitor news magazine: "Turkey is rearming militarily. It is active in more and more countries and is conducting flying air strikes". Simone Wisotzki of the Hessian Foundation for Peace and Conflict Research also said: "So if you compare it with Turkey's previous policy, it is a much more aggressive appearance". Samuel Brownsword of Drone Wars UK says: "The way Turkey uses its armed drones in coordinated offensives against other military forces is unique. I would really say that the country is one of the most advanced new users of armed drones".
"German development aid for Turkish drone war"
The Turkish President Recep Tayyip Erdoğan boasts with drones from "domestic production" and likes to be photographed signing the aircraft himself. However, "domestic production" is not quite correct. According to research by Monitor, the German armaments company TDW and the German government played a decisive role in the development of the drones. A small inquiry by the parliamentary group DIE LINKE already revealed in 2018 that missile heads with which the armed drones of the Turkish military are equipped were developed by the German weapons manufacturer TDW and sold to Turkey together with their production license. TDW received almost 300,000 euros from Turkey for the plans of the so-called "killer missile system".
"Turkey would have needed five to ten years longer without German help"
Ammunition for drones and helicopters has been exported from Germany for years. Without these weapons Turkey would not be able to conduct its aggressive war policy. Peace researcher Simone Wisotzki notes that Turkey would not have been able to build up this drone power without the help of Germany: "If Turkey had not had this at its disposal, it would probably have needed another five to ten years to be able to produce and use such technology independently.
"All Turkish guided missiles contain German know-how"
The rockets are manufactured by the practically state-owned arms company Roketsan, which is closely linked to the Erdoğan family. In a recent response to an inquiry by the Greens, the German government confirmed that deliveries of "components, warheads and technology" for the "LRAT and MRAT anti-tank guided missiles" had been approved.
Monitor says: "What sounds technical is translated as: Apparently know-how has been supplied for a whole range of Turkish missiles. This is because MRAT and LRAT are designations for certain types of missiles. In Turkey, they are manufactured under the names OMTAS and UMTAS. The so-called MAM-L was developed on the basis of UMTAS. According to Roketsan the construction is identical except for the propulsion system. It belongs to the standard armament of Turkish drones. All these rockets are probably based on German know-how. The supply of warheads as well as construction plans offered Turkey the possibility to get weapons from its own production faster.
"Technology transfers were used to enable Turkey to replicate"
Brian Castner, weapons expert at Amnesty International, says: "It simply takes time to develop the technology, the materials and all the steps involved. Such technology transfers provide a kind of guidance. Turkey can see how German engineers have solved various problems. It is a kind of shortcut." Regarding the small number of warheads delivered, Castner comments: "The most likely thing for me is that the number of warheads delivered was just right to enable engineers in Turkey to understand and reproduce the warheads. In this way, Turkey can learn to build its own."
Federal government violates arms trade treaty
The German government is thus openly violating the proclamation that it will not permit the export of weapons or military equipment if it is foreseeable that they will be used in conflicts contrary to international law. This is stated in its own political principles and also in the Arms Trade Treaty. The fact that the occupation of Northern Syria is contrary to international law is not disputed even by the academic services of the German Parliament. However, this does not seem to bother the federal government in any way. The federal government avoids corresponding questions and declares that it is examining each individual case. The government refuses to provide further information on these examinations.
Katja Keul (B'90/Greens), member of the Defense Committee, comments: "Within war weapons, it is warheads that are lethal and can be mounted on various weapons, and therefore it is important to pay special attention to this. And if you then also supply the technology that enables the recipient to possibly produce it himself, you have ultimately relinquished control, which is irresponsible in terms of security policy."
RELATED NEWS: