Turkish soldiers block visitors to Öcalan's house in Amara
Turkish soldiers prevented people who tried to access Amara to raise concern over the isolation imposed on Kurdish leader Abdullah Öcalan. The Öcalan Family said that "We must enhance the struggle."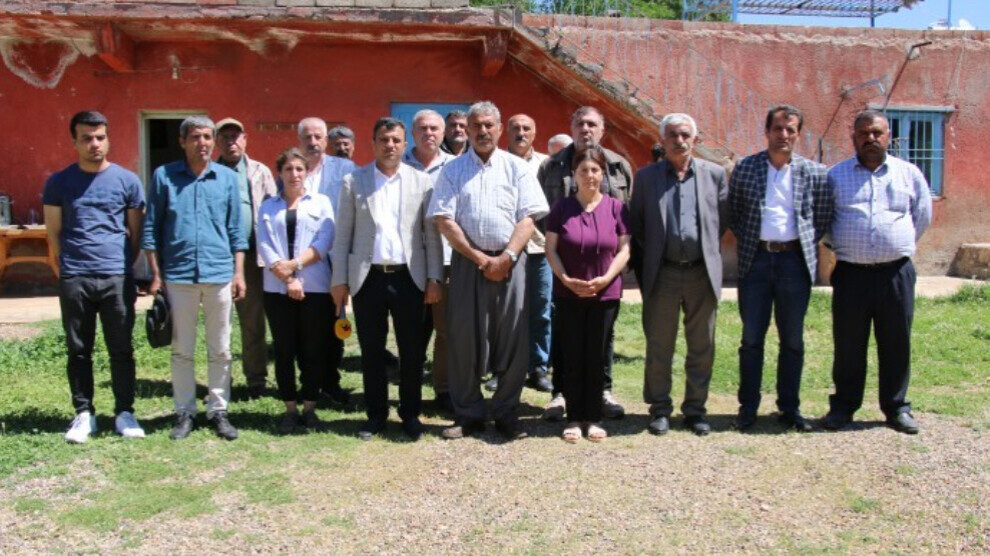 The Democratic Society Congress (DTK), the Free Women's Movement (TJA), the Democratic Regions Party (DBP), and the Peoples' Democratic Party (HDP) organized a march to the Amara village in Halfeti district of Urfa, the birthplace of Kurdish leader Abdullah Öcalan, to protest the isolation imposed on him in Imrali Prison for 23 years.
Protestors coming from various cities were blocked by Turkish soldiers at the checkpoints set up at the town and village entrances. Turkish soldiers prevented the crowd from entering Amara.
On the other hand, people from Suruç and Bingöl who managed to get to Amara were welcomed by Öcalan's brother Mehmet Öcalan, his nephews, Urfa deputy Ömer Öcalan and Ali Öcalan at a family home.
HDP deputy Ömer Öcalan said that the visit to Amara was illegally prevented and added that their house is a home to all Kurdish people.
The HDP MP underlined that Abdullah Öcalan is the key interlocutor for a democratic solution to the Kurdish question. He noted that Amara was entirely surrounded on April 4, Öcalan's birthday, adding, "This is a most democratic right. Still, we are persecuted. The state is causing problems, insulting the public. This door is open to people whenever they want. This is the house of the people."
'NO NEWS FROM IMRALI'
"I went to Imrali many times to meet Öcalan, but we have not received any news from the four prisoners there for the last two years. This is something that exists neither in Turkish laws nor in international laws," Mehmet Öcalan said.
'WE SHOULD STEP UP OUR STRUGGLE'
Mehmet Öcalan remarked that the arbitrarily imposed isolation continues with the ban on family and lawyer visits and added that they do not accept the obstructions they face in the region either. He insisted that it is unlawful to both impose isolation on Öcalan and to ban visits to his family house. "Intellectuals, democrats and politicians should introduce a democratic struggle. Four people are held on İmralı Island. Allow the families of the four prisoners to pay visits to the prison immediately. The Kurds should now step up the democratic struggle further. We have no other choice," he said.
After the brief statement, the family moved to Halfeti district to welcome their guests and make another statement.