UN: 166,000 people displaced amid Turkish incursion into N. Syria
The UN currently estimates some 166,000 people have been forced to flee their homes over the past seven days.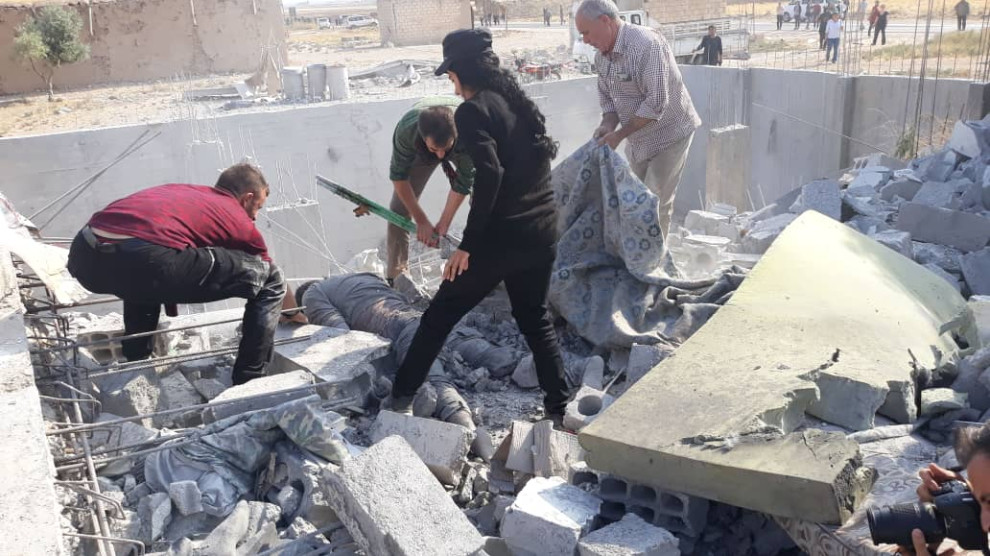 Reactions are growing in the face of the Turkish military offensive seeking to invade North and East Syria, which was launched on October 9 and continues despite the ceasefire between the U.S. and Turkey announced on Thursday.
Representatives of United Nations institutions have made statements on the latest situation on Friday.
Andrej Mahecic, for the United Nations Refugee Agency (UNHCR):
"For the fourth consecutive day, UNHCR, the UN refugee agency, has been receiving hundreds of refugees crossing the border into Iraq from northeast Syria. Refugees mainly come from towns in northern Syria - Kobani, Amude and Qamishlo and surrounding villages.
The UN currently estimates some 166,000 people have been forced to flee their homes over the past seven days. Newly displaced families continue to seek shelter in camps, makeshift sites, communal shelters, with family, friends or acquaintances. Many of them have been displaced multiple times from one area to another in Al-Hassakeh, Tal Tamer and Raqqa.
Violence has wreaked chaos among civilians, hitting the most vulnerable hardest. Our teams reported story of a child, a 13-year-old boy from Ras-Al-Ain, who ran for his life amid intense fighting and got separated from his parents. He followed the crowds and reached one of the communal shelters in Al-Hassakeh where UNHCR outreach volunteers tirelessly went through communal shelters until they were able to reunite the boy with his family.
Given the new and significant humanitarian needs, UNHCR reiterates its calls for the protection of civilians and civilian infrastructure. It is also critical that humanitarian workers are given unfettered humanitarian access to reach those newly displaced and assist them wherever this is required."
Marixie Mercado, for the United Nations Children's Fund (UNICEF):
"A polio immunisation campaign that had been planned prior to the escalation in hostilities proceeded with no major incidents. Nearly 65,000 children were vaccinated in Hassakeh governorate, including 1,748 in Al Hol and 740 in Areesheh camps on Wednesday and Thursday.
The Alouk water pumping station in Hassakeh is still non-functional due to the damage on the main power lines, affecting the water supply to over 400,000 people. Deconfliction is needed to allow UNICEF to supply 16,000 litres of fuel on a daily basis to run the backup generators. Over the past six days, only 30 per cent of water needs have been provided through the water network."
Tarik Jasarevic, for the World Health Organization (WHO):
"Despite the challenging situation, WHO continues to deliver aid and provide basic services to people in need where access allows. Our staff remain in northeast Syria. However, there is an urgent need to scale up the response.
40 tons of medical supplies were airlifted from Damascus to Al-Qamishlo between 15 and 17 October 2019. The items – enough to cover 102,445 treatment and 620 trauma cases – will be distributed to WHO-supported hospitals and health centres in Al-Hasakeh, rural Ar-Raqqa and rural Deir-ez-Zor.
Ras al Ain and Tal Abyad hospitals remain closed, as reported previously.
Tal Tamr hospital has been the main reception point for wounded persons coming from conflict at Ras al Ain. The hospital has struggled to cope with the influx of patients, and patients have been subsequently referred onwards to Al Hasakeh and Qamishly. Surgical teams at the hospital were forced to evacuate briefly on 15 October, but later returned and re-activated emergency services and the operating theatre. The facility is currently functioning mainly as a trauma stabilization point for wounded persons, who are then referred to Al Hasakeh and Qamishly for more complicated medical interventions.
Tal Tamr hospital has been provided with emergency supplies by partners, and additional support is planned.
Hervé Verhoosel, for the World Food Programme (WFP):
"WFP is on the ground in northeast Syria, and so far has reached 170,000 people with monthly food assistance, including ready-to-eat food to support people in collective shelters and with General Food Assistance, where areas with a high concentration of Internally Displaced Persons [IDPs] have been prioritized.
There are more than 165,000 people on the move in the northeast, seeking shelter in Hasakeh and Raqqa cities. Many people choose to stay with family and friends rather than in collective shelters, so that figure could be higher.
It's estimated that in terms of IDPs, 70 per cent in Hasakeh are in host families, and 50 per cent in Raqqa; the rest are in collective or temporary shelters. These figures are not statistic given the current fluidity of the situation.
As part of this revised distribution plan, WFP is scaling up its response to support 580,000 people in northeast Syria in October.
Hostilities threaten the movement of humanitarian and commercial supplies that can negatively affect the lives of hundreds of thousands of people. Reports shows that disruption in commercial routes had an upward impact on prices.
WFP calls for vital supply routes be kept open and safe for humanitarian deliveries. All parties to the conflict must ensure unconditional, unimpeded and continuous access to all people in need across Syria.
Jens Laerke, for the Office for the Coordination of Humanitarian Affairs (OCHA):
"Despite the announcement of a ceasefire in northeast Syria the previous day, shelling and intermittent clashes had been reported as recently as that morning around Ras-Al-Ain."