Parents of Little Sara killed by Turkish attack ask for justice
The mother and father of little Sara, murdered by a Turkish soldier, called on the international community to ensure Turkey is prosecuted.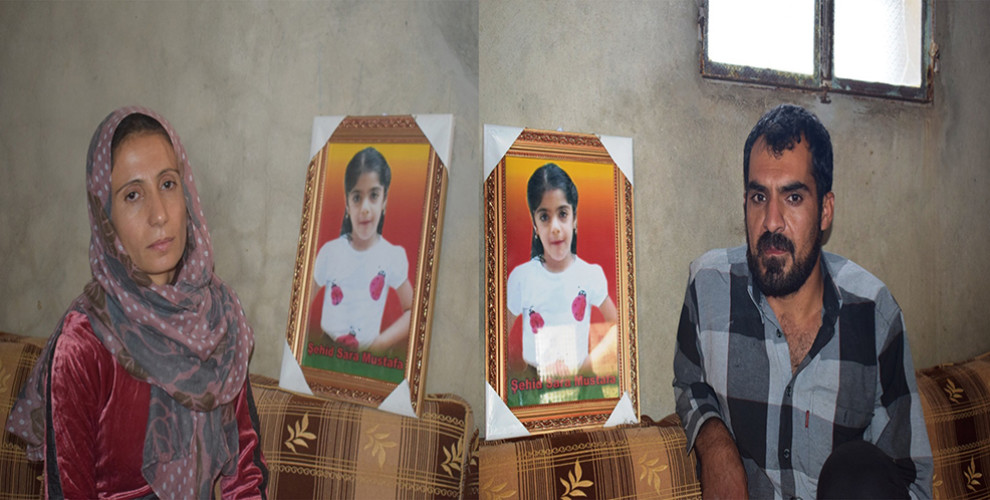 On 1 November, military forces of the invading Turkish state, that had been attacking people in Northern and Eastern Syria, targeted the village of Til Findir in Girê Spî, and shot little 6-year-old Sara, who was returning home from school.
Sara's father, Rifat Mistefa, told ANHA: "My daughter was a primary school student, on her first year. She was returning home from school when she was deliberately murdered by Turkish soldiers near the border".
The Turkish state, added Rifat Mistefa, "is attacking everyone, no matter whether they are children or old people. When a child is slaughtered outside of Syria, - added Mistefa - the whole world stands up in outrage. But when the murdered child is Kurdish or Syrian, no one says anything. My daughter was murdered by Turkish soldiers, but nobody cared".
Rifat stressed that they would resist the attacks until the last drop of blood no matter the threats and violence.
Sara's mother, Fatma Resûl, said: "What was my daughter's sin? She was just a little kid. Her only fault was coming home from school. Why have they murdered her?"
Fatma Resûl said that the silence of the international community on the attacks carried out by the Turkish state shocked them. "The Turkish state want us to leave our villages. But we will resist here in our village and we won't allow the Turkish state to achieve its goals".
Sara's mother and father ended their remarks with an appeal to international human rights organisations to fulfil their responsibilities and ensure prosecution of Turkey.