PYD: Erdoğan is the representative and guarantor of terrorists
On Saturday, heads of state and government from Germany, France, Turkey and Russia met to discuss the peace process in Syria at a four-party summit. One day later, the Turkish military attacked Kobanê.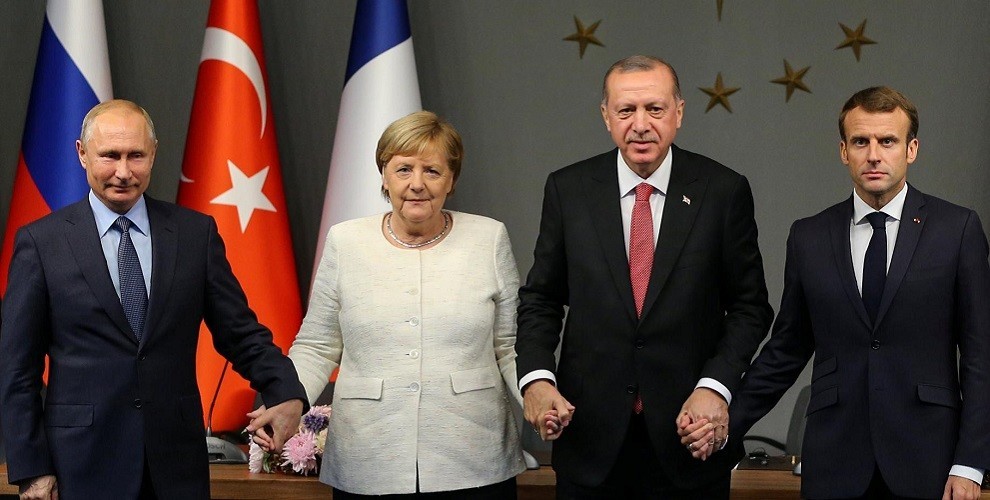 On Saturday, the heads of state and government of Germany, France, Turkey and Russia met in Istanbul to discuss the peace process in Syria at a four-party summit. In the joint final round, the Turkish president announced that he wanted to wage another war of aggression against Rojava and northern Syria. Turkey will not tolerate the growth of terrorist groups within its borders or in any area of Syria, said Erdoğan, claiming that hundreds of deaths occurred in Turkey following attacks by the PYD. One day after the four-party Summit, the Turkish military bombarded the northern Syrian canton of Kobanê.
In a statement, the General Council of the Democratic Union Party (PYD) commented on the statements of the Turkish head of state with the words: "Erdoğan has become the representative and guarantor of the terrorists in Syria."
The written statement by PYD said the following:
"Representatives of the Turkish state have made a habit of accusing our party and the Syrian Democratic Forces (SDF) of terror. Both we and the SDF have been a shield against terrorism and its collaborators since its inception. After unsuccessful attempts by the Turkish president to enforce his demands and plans on the other states at the four-party summit, Erdoğan has once again resorted to accusations that have no foundation. However, Ankara was not limited to these threats, and attacked several villages in the west of Kobanê with heavy tank and artillery fire one day later.
The president of the Turkish state wages an attack through terrorist means on seeing that his counterparts do not bow to him.
If it were not for the peoples of northern Syria and the defense of their system that has been put into practice in the region, Erdoğan -like ISIS, al-Nusra, and other al Qaeda-affiliated groups- would have had the chance to openly realize his intentions, and his neo-Ottoman dream. That is why our party and our defense system in northern and eastern Syria have become a nightmare for Erdoğan and the terrorist groups he supports.
As the Democratic Union Party, we declare that we will not accept the allegations of Erdoğan, the representative and guarantor of the terrorists in Syria. The silence of the other heads of state about his unsubstantiated allegations has surprised us. If these states had not kept silent, Erdoğan would not have been able to attack the villages in northern Syria. We call on all parties not to bow to Erdoğan's threats and to fulfill their responsibility to resolve the Syrian crisis."