3rd Amara Festival kicks off in Shehba
The 3rd Amara Festival, celebrating the birthday of Leader Öcalan, started in Shehba.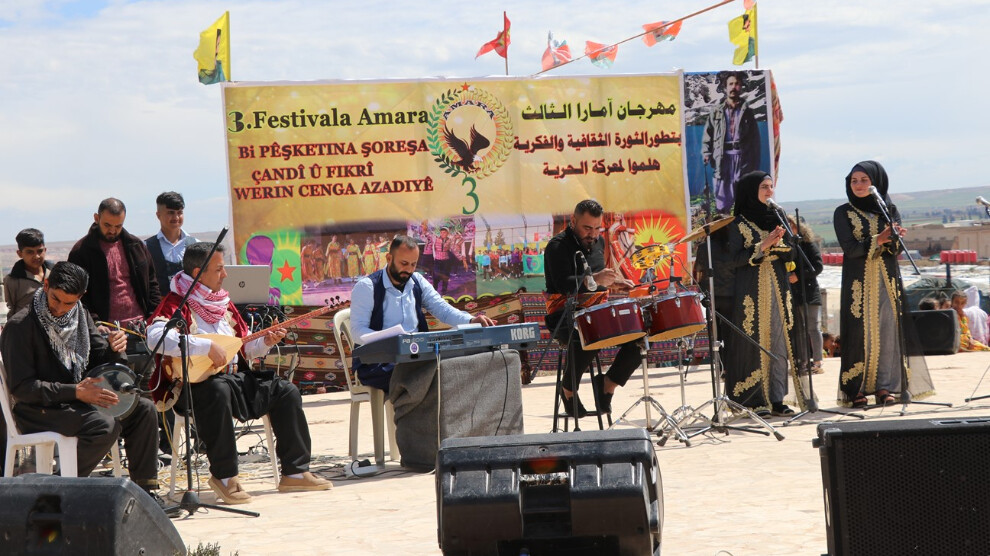 The 3rd Amara Festival kicked off at the Resistance Camp in the Fafin district of Shehba canton.
Hundreds of people living in the cantons of Shehba and Afrin gathered in the main square of the camp. Photographs of Leader Abdullah Öcalan, flags of the Revolutionary Youth Movement and the Young Women's Union were hung in the festival area.
Making a speech at the festival, Emina Hec Ebdo, a member of the Revolutionary Youth Movement, saluted the Kurdish people on Leader Abdullah Öcalan's birthday, on 4 April.
Referring to the role of youth in society, Emina said that "a free society is established with the power of young people who made Leader Abdullah Öcalan's ideas and philosophy the basis of the revolution against the Turkish occupation."
Ebdo continued: "Young people have participated in the Rojava revolution from the very beginning. They became symbols of struggle and resistance against the attacks by the ISIS mercenaries, protecting the gains of the revolution."
The Arab Baz Mordem group, the Yazidi Union's Azadi group, the Mazlum Nisebin theater group and the Zinarin Cudi folklore group presented their works.
The festival is expected to continue until 4 April. Sports events will be held at Babnis Stadium today, and works will be exhibited in Serdem Camp and Ehdas district on the third and fourth days of the festival.