Armed confrontation between Syrian and US soldiers in Qamishlo
An armed confrontation between the US troops and Syrian soldiers has allegedly killed a civilian in a village of Qamishlo.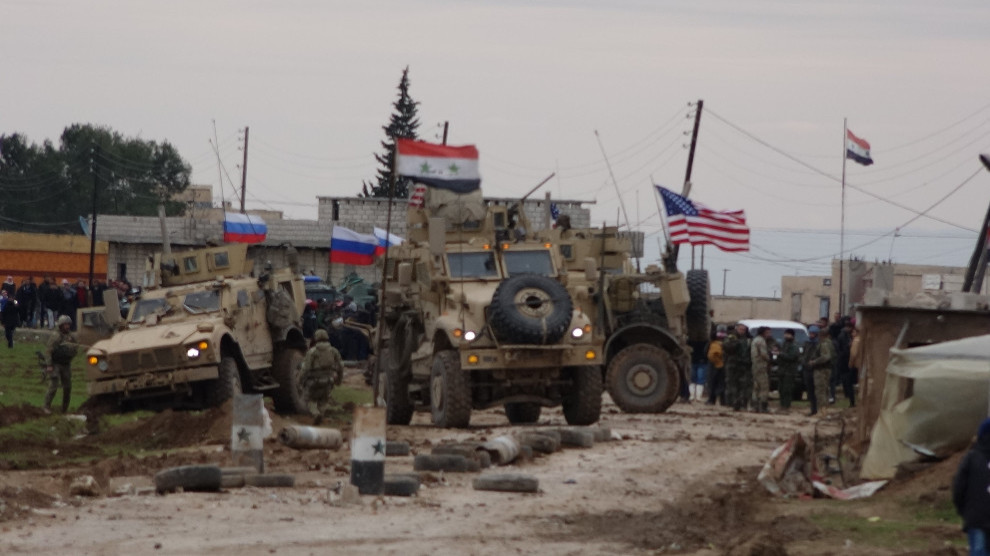 US troops conducted a patrol mission in the southeast of the Qamishlo city in northern Syria at around 09:30 this morning. The US convoy of 8 armored vehicles headed on the routine route and was moving towards the Qamishlo city center through M+ highway when they were stopped by Syrian troops at a military checkpoint in the village of Xirbet Emo 3 km southeast of Qamishlo.
The quarrel between the US forces and the Syrian regime affiliated Difa el-Watani forces gave rise to tensions with the involvement of the village residents. The US vehicles were stoned as the quarrel continued.
According to the ANHA reporters on the ground, US soldiers opened fire into the air in an attempt to move up through the checkpoint, which indeed helped 5 of the vehicles move on while the other 3 vehicles were obstructed.
The continued quarrel turned into an armed confrontation between the Syrian and US troops. According to some sources, a civilian from the village was killed and another wounded in the clash. Syrian troops rained bullets on the US armored vehicles.
The Syrian forces also attacked the ANHA reporters on the ground and seized the camera of a correspondent before leaving the scene.
US aircraft mobilized in the face of the tension and flew low over the village to ensure the leave of the soldiers stranded in the area. Reports came through of sonic blasts during the low flight of the US jets which reportedly struck some positions of Syrian regime forces.
No official statement has been made on the mentioned allegations so far.