Online campaign for status for North and East Syria
The #Status4NorthAndEastSyria campaign, launched on social media for the recognition of the status of the Autonomous Administration of North and East Syria, has attracted intensive global attention.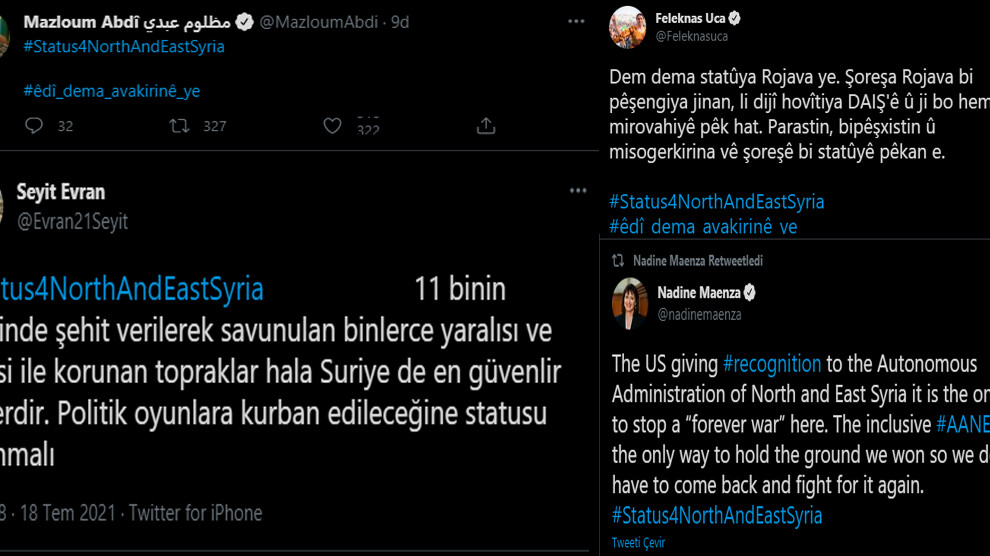 The #Status4NorthAndEastSyria campaign has been launched online by the call of Syrian Democratic Forces (SDF) Commander-in-Chief Mazloum Abdi.
The campaign rose to 5th place in global trend topics. It came in first in Turkey, Switzerland, Austria, Germany, Sweden, Belgium, France and Iraq. A total of 181 thousand tweets were shared as part of the campaign. There have also been statements on Facebook accounts.
Speaking to ANF, a member of the Kurdistan Social Media Assembly stated that the campaign is carried out successfully against all obstacles and attacks through social media.
"On the anniversary of the Rojava revolution and amid increasing attacks against the revolution, promoting the revolution and its status has become an important issue," he said.
He noted that hashtag campaigns will continue during the anniversary of the July 19 Rojava revolution and called for an active participation in the ongoing hashtag campaigns.