Camp built for displaced people of Girê Spî in Tal Samin
The autonomous administration of North and East Syria has opened a camp for people from Girê Spî seeking protection in Tal Samin near Raqqa.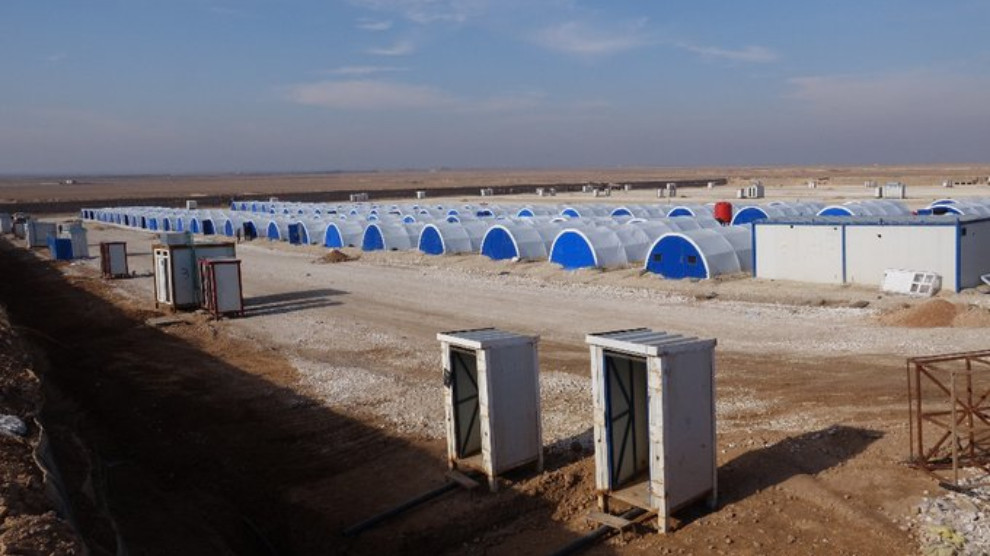 In northern Syria, about 300,000 people from Afrin, Girê Spî (Tal Abyad) and Serêkaniyê (Ras al-Ain) are fleeing the Turkish invasion. The refugees from Girê Spî and Serêkaniyê are mainly spread over the cities of Raqqa and Tabqa. Now, in Tal Samin, which is about 26 kilometers away from Raqqa, another camp for people seeking protection has been opened, where the first families have already been able to move in.
Fedê Şerif Xelîl from the camp management explains: "Due to the attacks of the Turkish state, our people had to flee here. We have set up this camp to bring our people together and provide them with food.
All needs covered by the Autonomous Administration
So far we have erected a hundred tents. We can put up about a thousand tents here. But if necessary, and the population wants it, we can increase that number even more. So far, all the needs in the camp are covered by the autonomous administration. Not a single aid organisation has supported us in any way.
We have the greatest difficulties
Our greatest difficulty is to ensure the basic supply of water, electricity and everyday needs. It is winter and the conditions are difficult. If it were summer, it would be bearable, but in this time of year everything is just very difficult. We have to provide the people seeking protection entirely from our own resources. And our situation is well known. On the one hand, the war is continuing and on the other hand, the possibilities of the autonomous administration are very limited. Therefore, we cannot cover the entire demand. At the moment there are 100 families in the camp and 200 other families have applied to move in. This number increases every day. We call on all humanitarian organizations to support these people."