Ceremony for 15 SDF fighters in Heseke
People of Rojava bid farewell to their martyrs.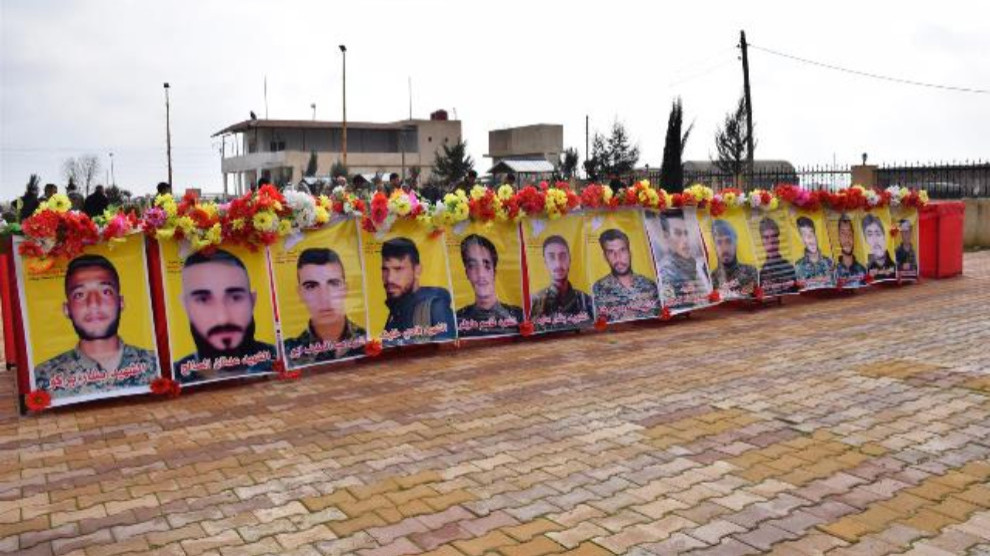 Hundreds bid farewell to SDF fighter Îsmaîl El-Misto (Sexir Til Hemîs) in Heseke city of northern Syria.
The funeral at the Şehit Dijwar Cemetery of Martyrs in the village of Dawudiya began with a military ceremony. Speaking after, Cizire Region Autonomous Administration executive Hisên El Ali pointed out that peoples have gained their freedom thanks to the selfless struggle of the martyrs. He vowed to keep their struggle going until the goals, for which martyrs sacrificed their lives, are achieved.
Speaking after, Shaddadi Military Council Commander Sayil El-Zobai stressed that they will continue to fight for a free and honorable life.
After the speeches, Heseke Council of Martyrs' Families announced the names of 14 SDF fighters who lost their lives in the fight to end the ISIS terror in Deir ez-Zor last year.
Names of the martyrs are as follows; Siûd Marûf (Hanî Hesekê), Beşar Silêman (Egîd Hesekê), Mihemed Arif El-Faris (Egîd), Samir El-Ubeyd (Agirê Hesekê), Mihemed Hiso (Dilşêr Hesekê), Qasim Elolo (Rojhat Hesekê), Hesen Kîatan (Mihemed Hesekê), Ebdulletîf Eyo (Lorens Amed), Mihemed Sewas (Alan Hesekê), Iyad Derwîş (Dilovan Hesekê), Beşar Berko (Dêrsim Hesekê), Fadî Xilêf (Zagros), Esed El-Nezal (Alan Xabûr) and Ednan El-Salih (Bahoz Til Birak).
After the ceremony, SDF fighter Îsmaîl El-Misto was laid to rest with slogans.