Clashes after attempted prison breakout in Hesekê
After the attempted mass escape from a prison for ISIS prisoners, fighting broke out in Hesekê. The SDF have set up a security corridor, and combat helicopters from the anti-ISIS coalition reached the area.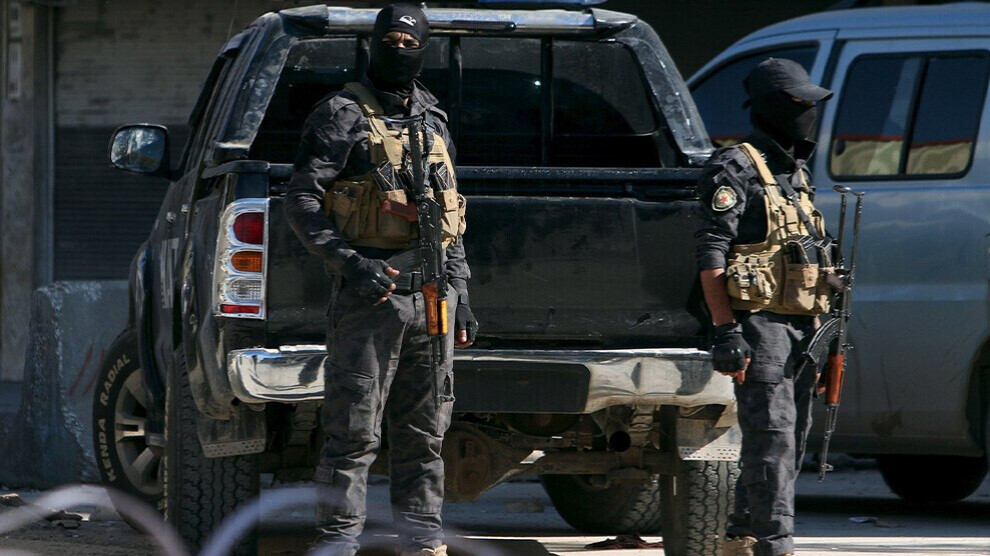 After the attempted mass breakout from Sina prison in the north-east Syrian city of Hesekê, the security forces of the Autonomous Administration (Asayîş) regained full control of the prison. The revolt ended relatively quickly, the press office of the Syrian Democratic Forces (SDF) announced on Thursday night. Plastic objects and blankets intentionally set on fire in some dormitories of ISIS prisoners did not cause any significant damage and could be extinguished quickly.
The attempt to break out of the Sina detention center in the Xiwêran (Ghweiran) district, which houses around 5,000 supporters and members of the Islamic State from around fifty countries - including highly dangerous mercenaries - occurred late Thursday evening. Suspected ISIS sleeper cells initially detonated several diesel barrels on the premises of an oil company across from the detention center, while a group of mercenaries directed a car bomb and motorbikes laden with explosives towards the prison gate. The detention center was then to be stormed, but the attempt was foiled. Asayîş units reacted immediately and thwarted the plan, but two security forces were injured in the exchange of fire that erupted.
The attackers then fled to the nearby residential area of ​​Zihûr (Al-Zohour). The Syrian Democratic Forces (SDF), which arrived in support in the evening, have isolated the neighbourhood and the area around Sina prison with a wide security corridor. The SDF assume that the assassins holed up in residential buildings. For hours, the area has been combed as part of a wide-ranging security operation, and shots could be heard sporadically. "Our forces act with great precision and sensitivity in order to curb the security threat posed by terrorists," said the SDF. Mosque loudspeakers called on the population to close their doors and not open to anyone.
At least two dead attackers
Troops from the international anti-ISIS coalition are also involved in the operation. Reconnaissance planes and combat helicopters regularly fly over the Xiwêran district. According to unconfirmed information, there was at least one air attack on fleeing cell members. In SDF circles, meanwhile, there is talk of two deaths on the part of the mercenaries, who are said to have been shot by snipers from the YPG anti-terrorist units YAT.