Death toll in Sheikh Maqsoud rises to 12
A five-storey residential building has collapsed in the neighbourhood of Sheikh Maqsoud in Aleppo, with up to thirty people believed to be trapped in the rubble.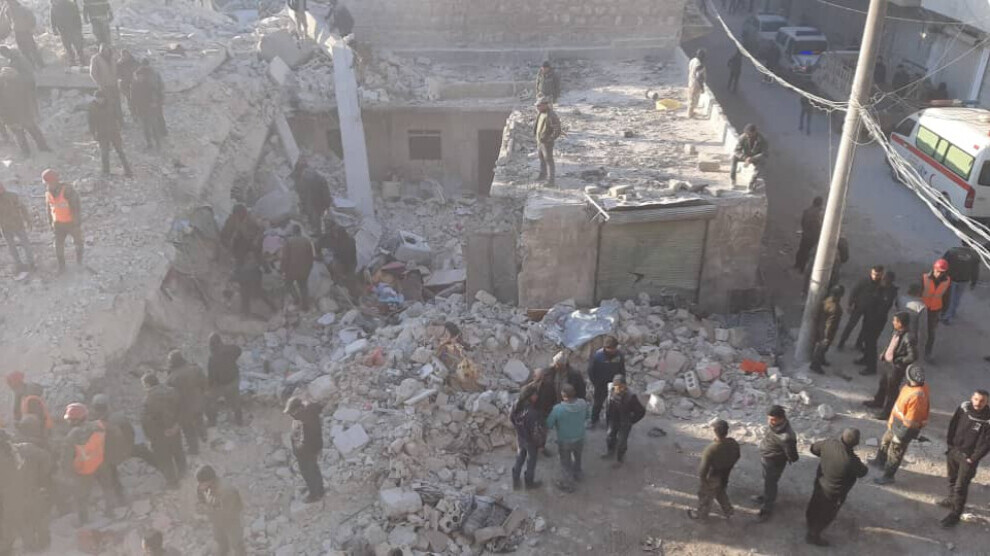 Last night, a five-storey residential building collapsed in the self-governing neighbourhood of Sheikh Maqsoud (Şêxmeqsûd) neighbourhood in the northern Syrian city of Aleppo. Members of five families are said to be in the rubble.
According to information from Şehit Xalid Fecir Hospital, at least 12 people are reported to have died as a result of the collapse, including 5 women and 5 children. Two other people were reported injured.
Four of the slain residents were identified as Yûsif Carûr (2,5 years old), Hemîda Carûr (8), Cemal Carûr (7) and Ridwan Mihemed (55).
The rescue work is still ongoing. The cause of the collapse is unknown.
The predominantly Kurdish neighborhood of Sheikh Maqsoud in northern Aleppo is semi-autonomous and is administered by a civil administration. Many people from Afrin, who were displaced by Turkey's invasion five years ago, live in the neighbourhood.
Sheikh Maqsoud and and the also self-governing neighbourhood of Ashrafiyah (Eşrefiyê) are a thorn in the side of the Assad regime, which controls the rest of Aleppo. For five years, the two neighbourhoods have been blockaded and the import of essential goods has been hindered. In August 2022, the embargo was tightened and no fuel, flour or medicines now enter the neighbourhoods. The blockade has already claimed several lives.