Doko: Turkish attack would threaten education of tens of thousands of children
The co-chair of the Education Council of North and East Syria, Kewser Doko, said pressure should be put on Turkey, as a Turkish invasion would endanger the lives and future of hundreds of thousands of children.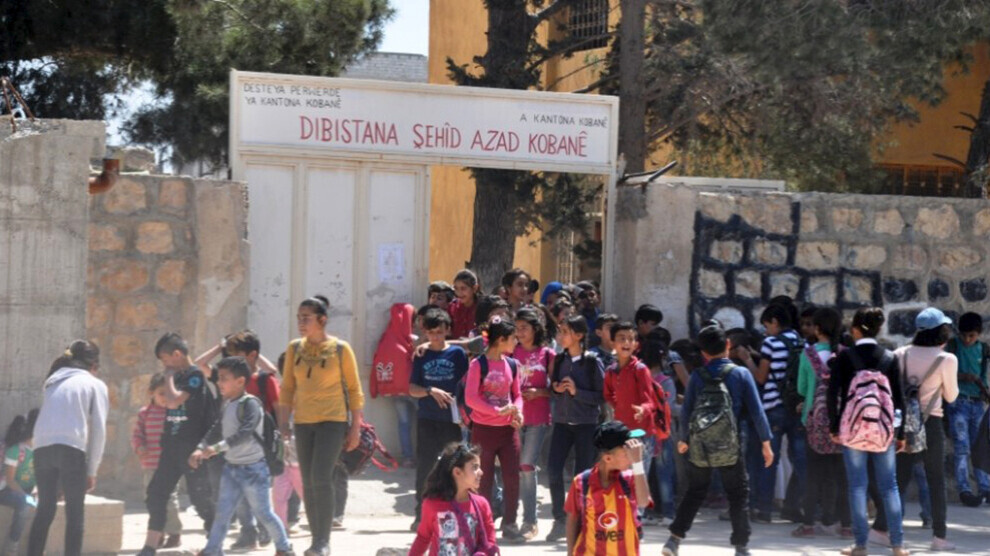 In recent weeks, the Turkish regime leader Recep Tayyip Erdoğan has repeatedly threatened to occupy a 30-kilometer strip along Syria's northern border. This would mean that almost all metropolises and self-governing cities would fall under the reign of terror of the Turkish army and its jihadist mercenaries.
"We seek peace and want a good future for our children"
Kewser Doko, co-chair of the Education Council of the Autonomous Administration of North and East Syria, strongly warned of a possible invasion and said the Syrian government should act: "To protect the lives of hundreds of thousands of children and to protect them from the danger of lack of education, we appeal to the government to put pressure on the Turkish state to prevent any attack on Northern and Eastern Syria. We seek peace and want a good future for our children."
Education systematically neglected by the Baath regime
When Rojava was still under the rule of the Baath regime, the region was considered a Syrian quasi-colony. Resources such as oil and grain were mined or harvested, but no infrastructure or production was developed in the region. This particularly affected the education sector.
Lack of education provides ground for jihadists
The Autonomous Administration says that jihadist terrorist organizations in particular have exploited the "lack of education" to win over a large number of young people. "The Autonomous Administration, represented by the Syrian Democratic Forces (SDF), defeated the terrorist organizations in cooperation and with the support of the international coalition forces. After this victory, the different populations in the region, Arabs, Kurds and Syrians, were able to live in dignity and peace for the first time."
Autonomous Administration built a democratic education sector
After the liberation of the regions from the Islamic State, the Autonomous Administration built up a democratic, gender-liberating and anti-racist education sector. Around 800,000 children and young people are educated in these schools. Lessons are held in the mother tongue. At the same time, the children also learn at least one language of the other population groups in the region. This promotes coexistence in the region.
Turkey threatens education
But immediately after the liberation, Turkey began to threaten the region. Afrin, Serêkaniyê and Girê Spî were occupied by the Turkish army and its mercenaries. Hundreds of thousands of people were displaced. Schools of democracy became schools of assimilation and Turkization. Tens of thousands of children and young people have been deprived of their right to education. Now the threat has escalated and a new invasion seems imminent. The Turkish state uses the international focus on the Ukraine war. Doko said: "Any attack on the region would deprive hundreds of thousands of children of an education, opening the door to even greater exploitation of these children by terrorist organizations."