Farewell to fallen YAT members in Hesekê
One week after the helicopter crash in southern Kurdistan, thousands of people paid their last respects to the nine fallen YAT members in Hesekê.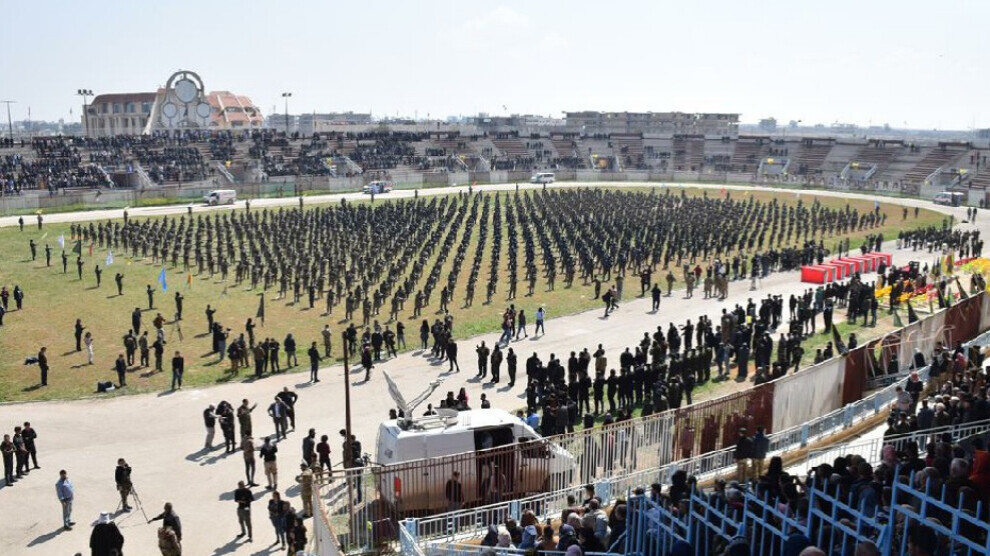 With a mourning ceremony in Hesekê, the Syrian Democratic Forces (SDF) bid farewell to nine fighters of the anti-terrorist units (YAT) who died in helicopter crashes in southern Kurdistan (northern Iraq) a week ago. Thousands of people, who travelled from almost all regions in the autonomous region of northern and eastern Syria, gathered at Serdem Stadium to pay their last respects to the martyrs.
Before the military farewell ceremony began, the coffins with the bodies were received from the Şehîd Sarya hospital and accompanied in a procession through the Xiwêran district. Along the streets, which the funeral procession passed for about a kilometre, people stood close together and applauded the martyrs.
At the stadium, members of all SDF combat units lined up and saluted the martyrs. Among the participants were the co-chairs of the Executive Council of the Autonomous Administration of North and East Syria (AANES), Bêrîvan Xalid and Abid Hamid al-Mihbash, the PUK anti-terror expert Wehab Helebceyî and Emîne Umer from the Syrian Democratic Council (MSD).
SDF General Commander Mazlum Abdi offered his condolences to the relatives of the martyrs, saying: "Today we say goodbye to nine heroines and heroes of the Rojava Revolution who have made groundbreaking achievements for their people in the fight against terror. We extend our attachment to them, as well as to all our other martyrs. Their loss has brought our forces closer together and strengthened the bond among us. We will complete the tasks of our martyrs and crown their ideals with victory."
Abdi stressed that defending the achievements of the Rojava Revolution and protecting the peoples of northern and eastern Syria is a top priority at all times. "We will continue our operations with commitment and strengthen, promote and honour our associations. The flag of the nine YAT martyrs will never fall. It will never stop flying and will be hoisted everywhere on the day of victory," said the SDF commander.
After further speeches, the certificates of the martyrs were read out and handed over to their families. Under slogans, the martyrs, Şervan Kobanê, Feraşîn Baran, Dîdar Dêrik, Rojeng Rifet, Xebat Dirbêsiyê, Dogan Efrîn, Harûn Rojava, Hogir Dêrik and Koçer Dêrik were sent to their hometowns for burial.