'Isolation of Öcalan violates international conventions'
Legal and civil society organizations in Afrin denounced the isolation of Abdullah Öcalan as a violation of all international conventions and called on the CPT to release a detailed report on the situation of the Kurdish leader.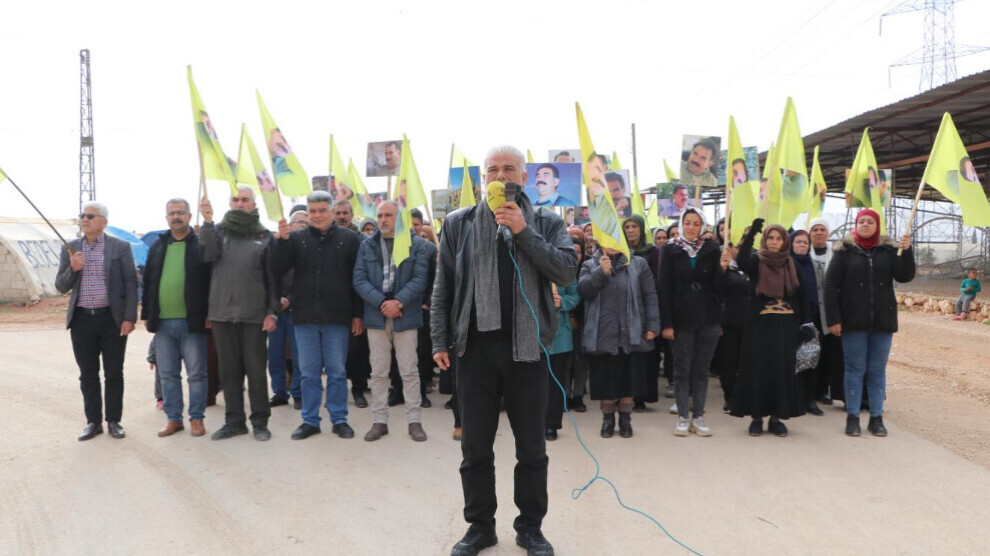 Representatives of dozens of legal institutions, civil society organizations and political parties from Afrin made a statement to the press in the Serdem Camp in Shehba Canton's Fafin district on Tuesday and denounced the isolation regime imposed by the Turkish state on Kurdish leader Abdullah Öcalan in the Imrali Island Prison where he has been held since his capture in Kenya and forced departure to Turkey in 1999.
The statement read out by Cebrail Mustafa, a member of the Committee to Defend Abdullah Öcalan, defined the isolation of Öcalan as a continuation of the international conspiracy that targeted him 24 years ago.
Mustafa pointed out that the isolation, disciplinary penalties and torture system executed on Imrali violated all international human rights laws and conventions.
The statement called on the CPT to release a detailed report on the situation of Öcalan, who has not been heard from for nearly two years.
Concerns increased after the CPT visit to Imrali
Concerns over the situation of the Kurdish people's leader increased after the Council of Europe Committee for the Prevention of Torture (CPT) visited Turkey on September 20-29. In a statement on 3 October, the CPT announced that İmralı F Type High Security Prison was among the institutions it visited.
However, the Istanbul-based Asrın Law Office, which legally represents Öcalan and his fellow prisoners, reported on 29 November that during the CPT visit, there was no meeting with Abdullah Öcalan, and that this increased their concerns.