Kongreya Star launches action against the isolation of Öcalan
The action will last three days.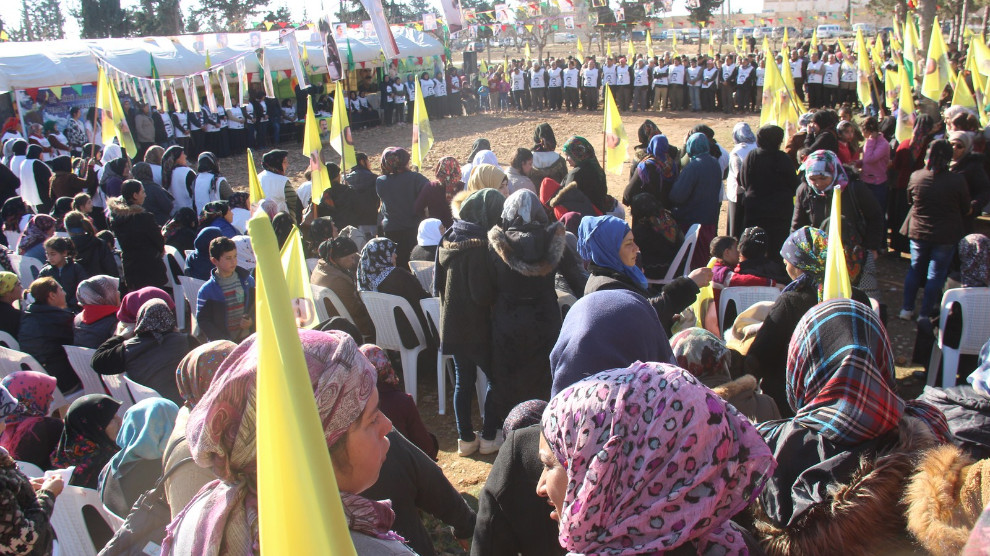 The Afrin Coordination of Kongreya Star launched an action in Ehdas district of Shehba in protest at the aggravated isolation of Kurdish People's Leader Abdullah Öcalan.
A tent was set up at the scene of the protest, covered with banners reading "Öcalan's physical captivity is the captivity of humanity", "We will smash the Imralı system with the will of free women" and posters of the Kurdish leader.
Hundreds of people from Ehdas, Babinês, Til Şiîr and Fafîn districts of Shehba joined the action on the first day.
Speaking here, Kongreya Star executive Hesna Hesen condemned the policy of isolation and vowed to continue their struggle for the freedom of the Kurdish leader until his physical freedom is achieved.
Kongreya Star executive Hêvîn Bekir condemned the silence of international human rights organisations in the face of the aggravated isolation imposed on Öcalan.
Speeches were followed by listening to Öcalan's evaluations on the resistance of oppressed peoples and attacks of capitalist states.