Newroz Ehmed calls for establishment of International Court on Islamic State
Newroz Ehmed, a member of the SDF General Command, called for the establishment of an International Court on the Islamic State.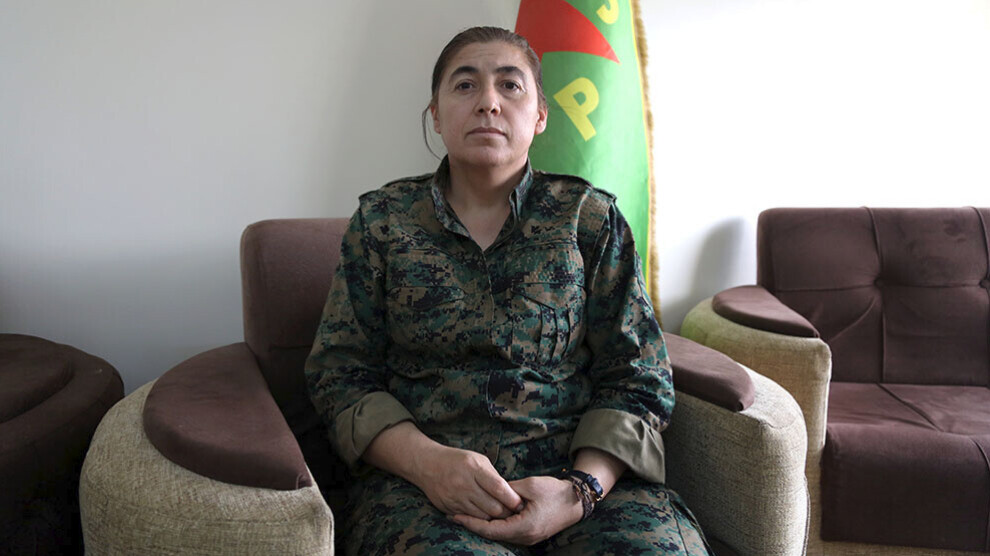 After the Islamic State attack on the Sina prison in Hesekê on 20 January 2022, the SDF (Syrian Democratic Forces) liberated the area after a bitter fighting and eventually took the prison under control. At the same time as the IS attack, there were various attacks by the Turkish state and its mercenary troops in northern Syria. Newroz Ehmen, a member of the SDF General Command, spoke to Mezopotamya news agency about the events.
"IS attacked before"
Ehmed reminded that there have been similar attack attempts carried out by the Islamic State before. These were foiled by the security forces and the SDF. She pointed out that high-ranking IS cadres arrested in 2019 in the last IS stronghold, Baghouz, were in Sina prison. Against this background, the prison with its 4,100 mercenaries was of great importance to the Islamic State. Ehmed said: "The Islamic State tried again and again to get the mercenaries out. Just at a time like this, they launched an attack. They repeatedly carried out attacks on our territory using a variety of methods. There were repeated attacks by secret IS cells and the Turkish state was constantly attacking. Turkey sent its mercenaries from Serêkaniyê, Tell Abyad and other occupied areas. But it has not been able to achieve the desired result. Every single attack was repelled by our forces. Neither the inmates nor the attacks from outside achieved their goal. We were not surprised to see that this attack came from Tureky after Erdoğan declared, that they 'will attack with a new strategy'. In fact, it was a much broader attack than before. The attack employed a large number of men from outside and was organized in a very different way than before."
Turkish mercenary groups were involved in the attack
Ehmed said that some groups from Iraq and Syria infiltrated at the same time as the groups controlled by Turkey. "All of these groups became active at the same time. The attack was not limited to the prison. The goal was of course the prison and Hesekê. ISIS members important to them are held in prison. Their goal was to free them and let them take part in the attack. Then they wanted to take control of the entire area. The Islamic State is reorganizing and wants to proclaim its caliphate again. The number and various locations of the attacks show that the attacks were organized."
"Danger in Prison"
Ehmed underlined that the danger coming from prison has been repeatedly emphasized before and added: "We have secured the prison according to our current possibilities. We kept emphasizing that the prison was not safe. Nevertheless, we have secured it to the best of our possibility. We have repeatedly called for the establishment of an international tribunal. Because the Autonomous Administration and SDF cannot take responsibility for it alone."
"Surgery against sleeper cells"
Cooperation with the international anti-ISIS coalition is not sufficient either, said Ehmed and continued: "The current attack is the clearest example of this. But the bottom line is that we regained control. We are carrying out a major operation against sleeper cells is underway. Similar operations are taking place not only in Hesekê, but also in the surrounding area and in other cities."
"Call for the establishment of an International Court of Justice"
Ehmed added: "The first step in prison was to clean up the area and neutralize the attackers. Then it was a matter of getting the prison back under control. The attackers had really infiltrated in large numbers from the outside. They wanted to invade with heavy weapons. But our forces intervened immediately, neutralizing them and preventing something worse from happening. Now everything is under control. It was of course difficult to achieve that. Because there were civilians there. The attackers had entrenched themselves in the residential areas. At the same time, there were also minors among the prisoners. They were there because we wanted to dissuade them from ISIS ideology. But we saw that ISIS tried to use them as human shields in these attacks. We didn't want a single civilian to be harmed and we also wanted the minors to be safe. We kept them in a safer place. But that wasn't enough. Safety was ensured there and the necessary measures were taken.
But we don't have enough resources. For this we need support. The most important thing is that foreign nationals are returned to their countries as soon as possible. There has to be support for that. There is a need to work in partnership with the countries they come from to bring them to justice together and expose their crimes. This is an international task. It's not just up to us. On this basis, they are to be tried and returned to their home countries. This is one of our core tasks. Of course, it is also important to ensure safety here. But our resources are very limited. We lack facilities. We have therefore approached the coalition forces many times."
"Investigations continue"
Ehmed said: "We therefore keep appealing to the world states. These people must be prevented from reorganizing. Because they are a danger to the world. We call on all states whose citizens are among the prisoners, those harmed by these mercenaries and all those fighting for a peaceful world to take responsibility together. Together we can defeat the Islamic State. This is very important. We will no doubt continue our investigation into this attack. We will focus on the questions of how this attack developed, how ISIS organized itself and where the existing gaps are.
We suffered casualties in the attack. All our forces have joined this operation with great sacrifice. They fought with great courage. 10,000 fighters took part in this operation."
"Turkey was involved in the attack"
Ehmed said that "many of those who surrendered say they come from areas under Turkey's control. When we tried to repel these attacks and regain control of the prison, the Turkish state attacked. That's striking. Our investigation will bring all of this to light."