People of Qamishlo protest against Turkish attacks and criticise international silence
People took to the streets in Til Koçer and Çilaxa towns of Qamishlo in protest at the increasingly ongoing Turkish attacks on the region and the silence of the international community.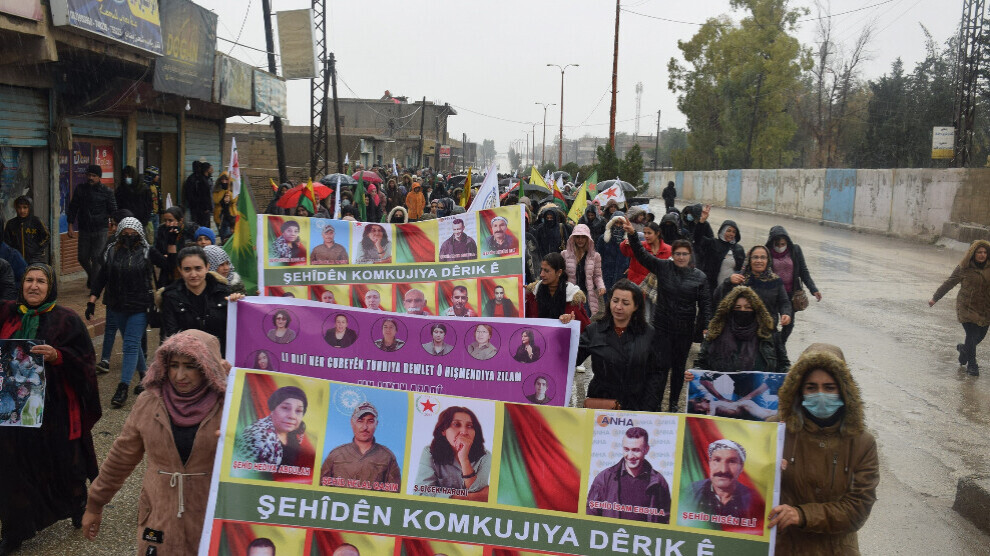 While Northern and Eastern Syria are under massive attack by Turkey, protests against the attacks are taking place in many places in the region. In the town of Til Koçer near the Iraqi border, hundreds of people gathered on Saturday under the slogan "No to the Turkish invasion of northern and eastern Syria". People marched through the town shouting "No to the occupation", "Resistance means life" and "Long live the resistance of the SDF". Posters with slogans like "Don't be accomplices in our occupation and murder - your silence is killing us" also criticised the attitude of Europe, the USA and Russia in particular.
Another protest demonstration took place in the town of Çilaxa. People marched through the town carrying pictures of those killed in the Turkish attacks. Banners read "Stop the war".
The funerals of those martyred in latest Turkish attacks have become mass protests, with tens of thousands taking part. On Thursday, countless people attended the funeral of five fighters of the Afrin Liberation Forces (HRE) at the cemetery of martyrs in Ehras in the canton of Shehba.