People of Tirbespiye march against the isolation of Öcalan
Demonstrations for Kurdish leader Abdullah Öcalan continue growing.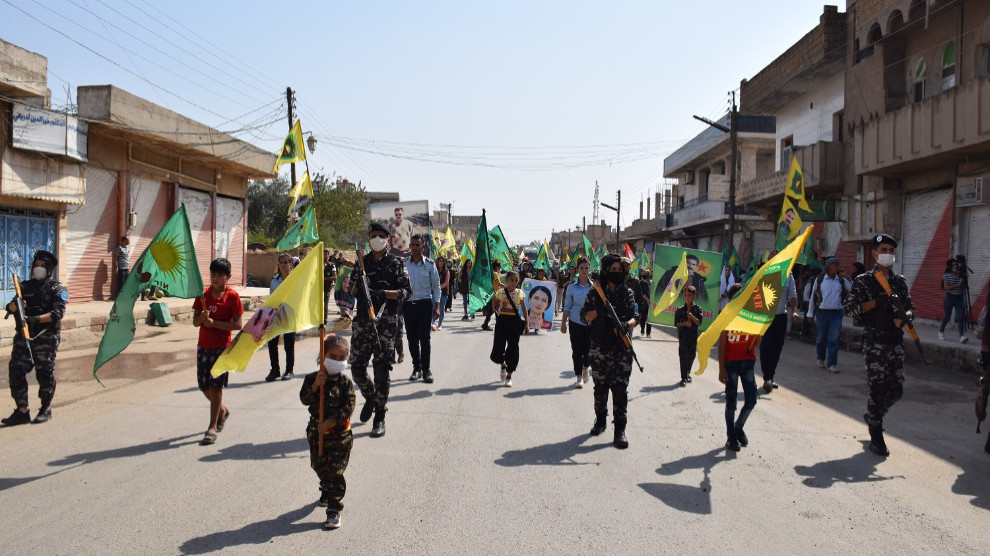 People took to the streets in Tirbespiye district of the Qamishlo Canton in North-East Syria in protest at the isolation imposed on Abdullah Öcalan. The Kurdish leader has been jailed on Imralı Island Prison in Turkey since February 1999 when he was captured in Kenya and handed over to Turkey as result of an international conspiracy. The island is completely sealed off from outside world and Öcalan has been able to meet his lawyers and family members very rarely during the past 21 years.
The protest march was joined by Kurdish, Arab, Syriac and Yazidi residents of the district, who chanted slogans against the isolation of the Kurdish leader and commended the guerrilla resistance against Turkish invasion in Heftanin region of Southern Kurdistan, Northern Iraq.
The march was followed by a rally where Popular Defense Forces (HPC) Commander Nasir Yunis addressed the crowd and said: "The Turkish state is the leading force of terror. It tries to put its policies into practice by means of threats and massacres."
Remarking that the isolation imposed by Turkey on Öcalan was aimed for the annihilation of the Kurdish people, Yunis added; "Through the policies of isolation, they are trying to prevent Öcalan's ideas from reaching the people. The freedom of Leader Öcalan is the freedom of the peoples in the Middle East."