People's Initiative in North-East Syria launches petition for Öcalan
The 'North and East Syrian People's Initiative' launched a petition in cooperation with the 'Freedom for Leader Abdullah Öcalan Initiative-Syria' demanding an end to the isolation regime imposed on Kurdish Leader Abdullah Öcalan by the Turkish state.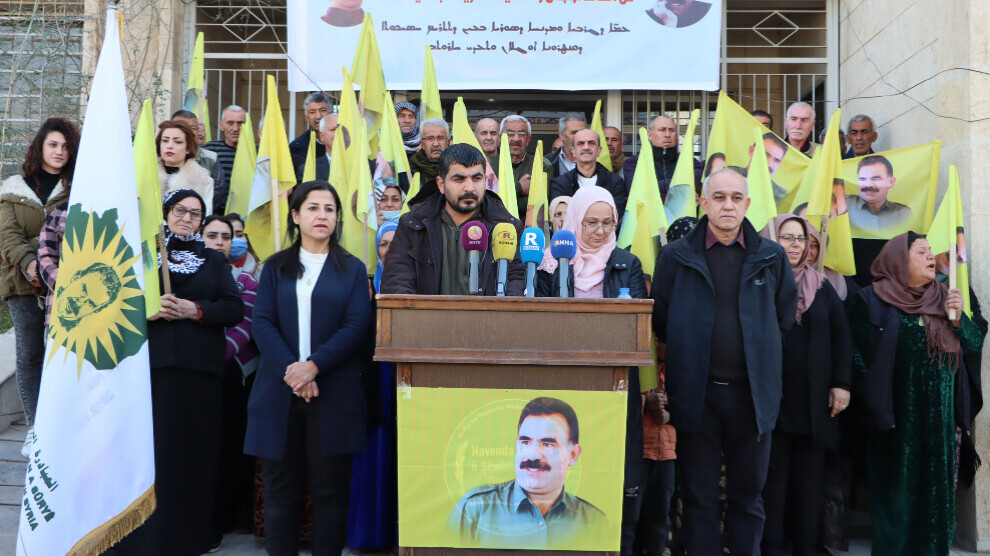 In a press statement in front of the Democratic Society Movement (TEV-DEM) office in Qamishlo on Sunday, the North and East Syrian People's Initiative announced the launch of a petition demanding the physical freedom of the Kurdish people's leader, Abdullah Öcalan, who has been held in Imrali Island Prison since his forced departure to Turkey on February 15, 1999.
Xufran Kewkeb and Mistefa Ehmed Kurdi read the statement announcing the campaign launched jointly with the Freedom for Abdullah Öcalan Initiative-Syria. The press briefing was attended by many people from the Kurdish, Arab, Armenian and Syriac communities.
"The peoples of North and East Syria call for an end to the isolation of Leader Abdullah Öcalan and for his physical freedom," said the press statement detailing the campaign, which includes the following:
"As the people of North and East Syria, we are concerned about the situation of Leader Abdullah Öcalan, who has not been heard from for about 22 months. Last granted a visit to Imrali on August 2, 2019, lawyers have not been allowed to meet with Leader Öcalan in any way since.
In this context, the Kurdish people and their friends, especially Leader Öcalan's family, are worried as they have not heard from him since the phone call on March 25, 2021. All the excuses presented by the Turkish state to justify the physical and spiritual torture of Leader Öcalan are unjustified. Their work on this issue is systematic and contrary to Article 1 of the Convention for the Prevention of Torture, which was proclaimed in accordance with the standards of the UN convention.
The torture executed on Leader Öcalan is not just a deprivation of his rights, but double torture. This double torture has ill effects according to Article 5 of the 1948 Universal Declaration of Human Rights; Article 7 of the 1966 International Covenant on Civil and Political Rights, and the UN General Assembly Declaration of October 9, 1975. According to Articles 2 and 4 of the Convention on the Prevention of Torture, to which the Turkish state is also a signatory and party, legal, administrative and judicial measures must be taken to prevent torture, and these acts of torture are considered 'crimes' according to these laws."
The petition is expected to last until February 15, when Abdullah Öcalan was handed over to Turkey after his capture in Kenya as a result of an international conspiracy. After the end of the campaign, the collected signatures will be sent to the Committee for the Prevention of Torture (CPT).