Political parties in Raqqa call for action to stop Turkish occupation and crimes
Political parties in Raqqa said the invading Turkish state and the "Syrian opposition" were responsible for the Jindires massacre and called for an end to the occupation.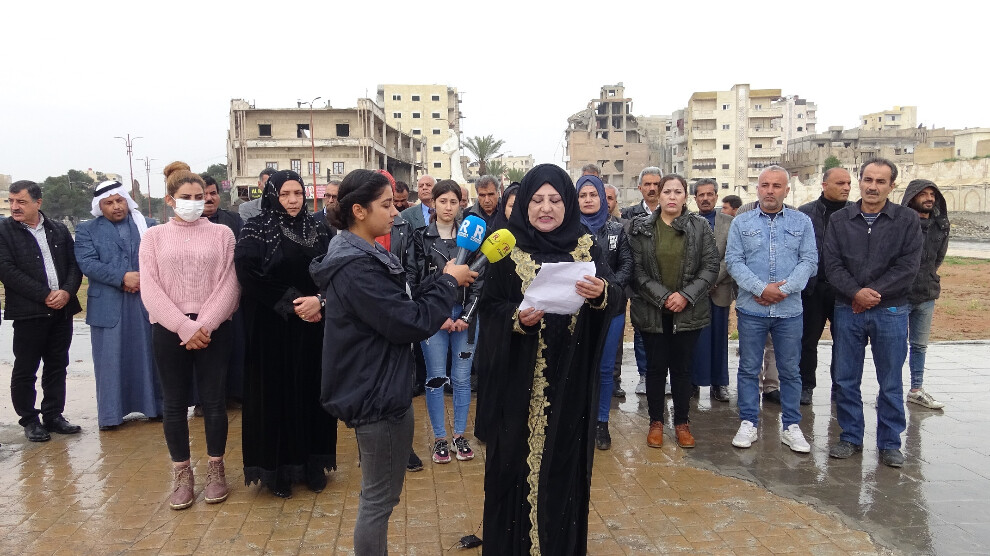 The Al-Sharqiya group affiliated with the Syrian National Army opened fire on a group of Kurdish locals who wanted to light a Newroz fire in Afrin's Jindires district, claiming the lives of 4 citizens and injuring some others on the night of March 20.
The Democratic Union Party (PYD), the Kurdistan Brotherhood Party and the Conservative Party came together in Muhafeza Square in the south of Raqqa and made a statement concerning the Jindires massacre. The press statement was read out by Cumane El Xelef, a member of the Kurdistan Brotherhood Party.
The statement raised concern over the crimes committed by the invading Turkish state and its mercenaries against Afrin's Kurds for more than 5 years. It said that the Newroz fire revealed the true face of those who claim to have liberated Afrin, and their grudge against its original residents.
The statement pointed out that the Jindires massacre showed what was really going on in the regions occupied by the Turkish state and its mercenaries. It noted that the invading Syrian Coalition and the Turkish state were responsible for this massacre.
The political parties called on international forces, the UN Security Council, the USA and Russia to take immediate action to liberate Afrin, Serêkaniyê, Girê Spî and other occupied regions in northern Syria from the Turkish invasion.
The parties demanded that members of the "national army" affiliated with the opposition be declared "terrorists".
The statement called for support for the legitimate demands of the people of Afrin and expansion of the struggle.