PYD holds ninth congress in Hesekê
The ninth congress of the PYD is taking place in Hesekê with hundreds of delegates and guests from Syria, Kurdistan and Europe.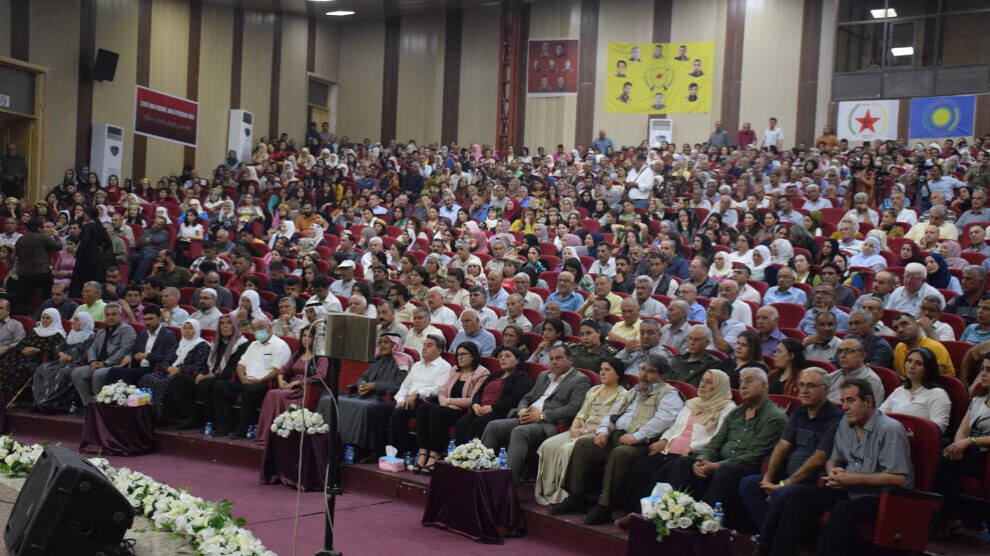 The Democratic Unity Party (PYD) is holding its ninth congress in Hesekê. Hundreds of delegates from northern and eastern Syria, Kurdistan and Europe are taking part in the two-day congress, with representatives of the Autonomous Administration of North and East Syria (AANES), TEV-DEM (Democratic Society Movement), civil society organisations and the women's umbrella organisation Kongra Star among the invited guests.
The welcoming speech was given by the PYD co-chairs Ayşe Hiso and Enver Muslim.
In his speech, Enver Muslim addressed the current developments in the region and pointed to the acute threat of invasion by Turkey. He stated, "Syria as a whole is going through a difficult time, and the situation worldwide has been exacerbated by the Russian war of aggression on Ukraine. The Turkish state speaks of its own "security interests" and at the same time attacks safe areas in South Kurdistan and Rojava. There are targeted attacks on Kurdish personalities and the civilian population. And all this is happening before the eyes of the world. Turkey's brutal crimes are permitted by the silence of the guarantor powers, the USA and Russia. The PYD is always ready for dialogue and is committed to the self-determination of the peoples."
Speaking after, Ayşe Hiso stated in her speech that the PYD was founded on the basis of the brotherhood of peoples and that the values represented by the party were based on the thesis of a democratic nation put forward by Abdullah Öcalan. "This is the only solution to the crisis in the Middle East. We have organised ourselves in all areas of northern and eastern Syria. The society has been oppressed by the nationalist system and has gone through an alienation from its real values due to these policies. The Democratic Nation project provides for equal participation of all parts of society and is applicable worldwide beyond Syria. The PYD is also convinced that the Rojava revolution is a revolution of women and youth."
The congress will continue with further speeches. The programme includes an evaluation of activities to date, a discussion on the party statutes and the election of a new executive committee.