Respiratory equipment campaign for Rojava
The coronavirus attacks the whole world since 2020. More than 46 million people are infected with this virus and more than 1 million people died from it.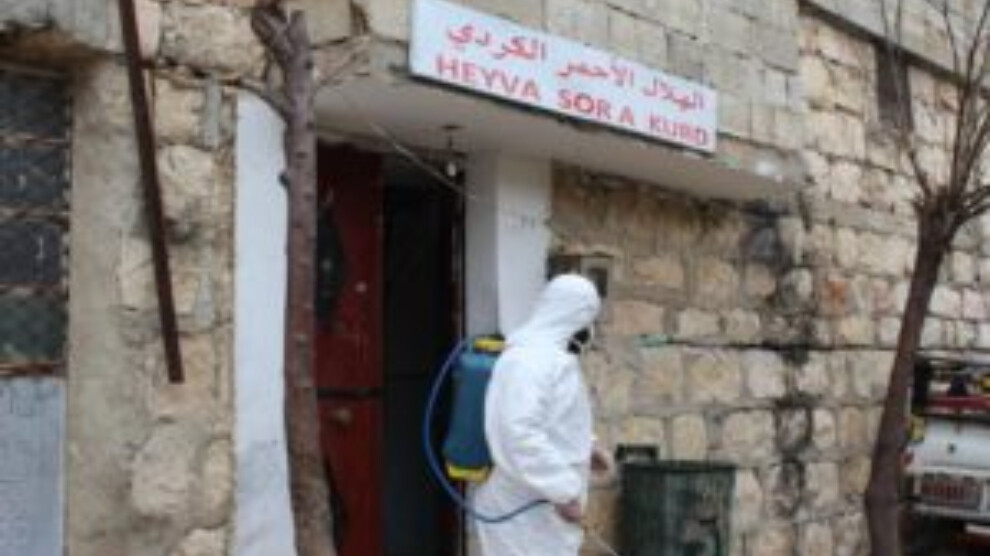 The coronavirus is spreading in Rojava as in other countries. Due to the conflicts, attacks, wars and embargoes that have been going on in Rojava for more than 9 years, the infrastructure of the health system is inadequate. The necessary equipment to fight the coronavirus is lacking.
Ventilators are very important in treating people who are severely affected by the coronavirus. And precisely these urgently needed devices are lacking in Rojava very much. First 100 devices have to be delivered to Rojava. Otherwise, deaths will increase due to the spread of the virus.
The Kurdish Red Crescent [Heyva Sor a Kurdistanê] facility has carried out the necessary research on these devices and found that the price of each device, including transport costs to Rojava, is 23,000 euros. A total of 2 million 300,000 euros are required for 100 devices.
Heyva Sor a Kurdistanê which vows to continue to support the people in Rojava during this difficult time is starting an aid campaign to deliver the necessary equipment to the people of Rojava.
The Kurdish Red Crescent calls upon all people of good will to support the people in Rojava in the fight against the coronavirus and to help them.
The reference: Rojava- Respiratory
Almanya / Germany / Deutschland
Heyva Sor a Kurdistanê e. V.
Wilhelmstr. 12
53840 Troisdorf
Tel.: +49 176 243 54 501
+49 (0) 2241 975 25 83
+49 (0) 2241 975 25 85
Fax : +49 (0) 2241 975 25 84
Email: [email protected]
Kreissparkasse Köln
Konto. Nr: 40 10 481
BLZ: 370 502 99
IBAN: DE49 3705 0299 0004 0104 81
BIC/SWIFT: COKSDE33XXX
***
Frankreich /Fransa / France
Association Humanitaire Soleil Rouge – RojaSor
Tel: +33 (0) 180 89 42 67
E-mail: [email protected]
CIC TROYES HOTEL DE VILLE
IBAN: FR7630087335000002074770150
BIC/ SWIFT:  CMCIFRPP
***
Swîsre / İsviçre / Schweiz / Suisse
Kurdistan Rote Halbmond Schweiz (Croissant Rouge Kurdistan Suisse)
Passage de Montriond 3-5 1006 Lausanne
Tlf: 0041 79863 50 44
E-Mail: [email protected]
Banque Cantonale Vaudoise (Kantonalbank)
Konto N°: 10-725-4
IBAN: CH62 0076 7000 L543 3416 5
BIC/SWIFT: BCVLCH2LXXX
***
Holanda / Niederlande / Hollanda / Netherlands
Stichting Koerdische Rode Halve Maan (Heyva Sor a Kurdistanê)Bokelweg 82, 3125 AD Schiedam
Ing Bank N.v.
Giro No :746 06 93
IBAN: NL80INGB0007460693
BIC/SWIFT: INGBNL2A
***
Swêd / Sweden / Schweden / İsveç / Sverige
Insamlingsstiftelsen Kurdiska Röda Solen
( Roja Sor a Kurdistanê)
Ankdammsgaten 33, 171 67 Solna
Tel.: +46 (08)-27 36 85
Email: [email protected]
Org nr. 802481-5782
***
Avûstirya / Österreich / Avusturya / Austria
Roja Sor a Kurdistanê
Jurek Gasse 26 / 1150 Wien
Tel:  00 43 660 691 98 88
BAWAG
IBAN:AT751400003010314274
BIC : BAWAATWW
Konto No: 030 103 14 274
BLZ : 14 000
***
England / İngiltere / Inglîstan
Kurdish Red Moon (Heyva Sor a Kurdistanê)
Fairfax Hall 11 Portland Gardens London N4 IHU
Tlf: 0044 7780 179787
E-mail: [email protected]
Registered Charity No: 10 93 741
Company No: 42 85 714
The Co-operative Bank
Bank Sort code: 089299
Bank Account No: 65863091
IBAN: GB55 CPBK 0892 9965 8630 91
BIC: CPBK GB22
Norvêc / Norveç / Norwegen / Norway
Kurdiske Røde Halvmåne Norge (Heyva Sor a Kurdistanê)
Hausmanns gate 6 0186 Oslo / Norge
Tel: 0047 472 88 019
Organisasjonsnummer: 009124. 84734
VIPPS: 21957
DNB BANK ASA OSLO
Account/Hesap/Konto No: 1503 40 52953
IBAN: NO 15 1503 4052 953
BIC/ SWIFT: DNBANOKKXXX
***
Îtalya / Italy / Italien / Italia
Mezzaluna Rossa Kurdistan Italia Onlus (Heyva Sor a Kurdistanê)
Via Forte dei Cavalleggeri,53 Livorno
Tel: 0039 058 61948022
Banca Prossima
IBAN: IT63 P033 5901 6001 0000 0132 226
BIC/ SWIFT: BCITITMX
Belçîka / Belgium / Belgien / Belgique / België
ASBL Croissant Rouge du Kurdistan-
Koerdische Rode Halve Mann VZW (Heyva Sor a Kurdistanê)
Gospertstr. 78
4700 Eupen
Tlf:0032 (0) 470 94 64 19
Numéro d'entreprise:465 073 725
BNP PARIBAS FORTIS
IBAN: BE04 0013 2448 9631
BIC/SWIFT : GEBABEBB
***
Rojava- Sûrî / Rojava- Syria
Heyva Sor a Kurd – Kurdish Red Crescent
Al-Qamishli-Kornish Street – Rojava – Syria
Tel: +963-988-069290 +963 -52 436700
E-Mail: [email protected]