SDF General Commander Abdi met Wise leaders
SDF General Commander Mazlum Abdi met with the Committee of Wise people in North and East Syria. At the meeting, developments in the region were discussed.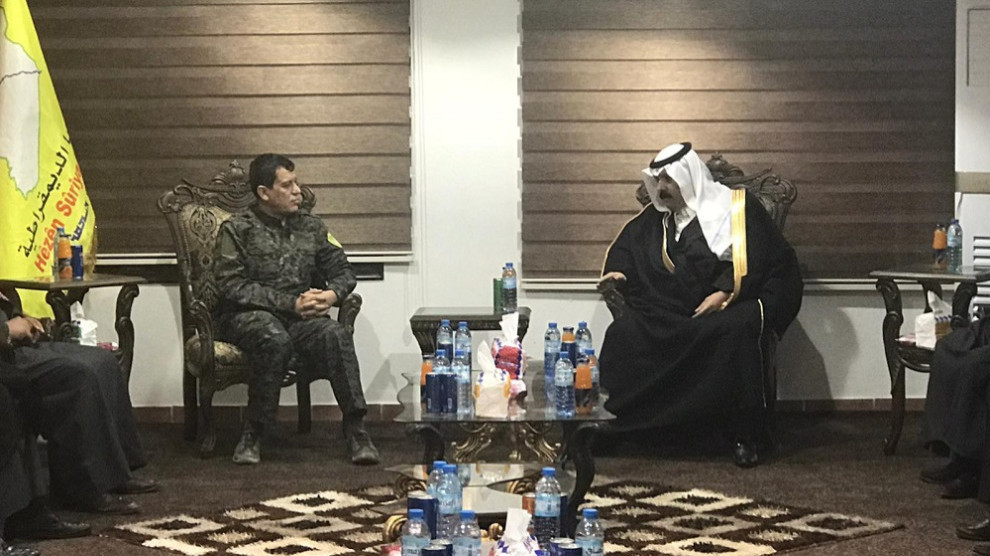 The General Commander of the Syrian Democratic Forces (SDF), Mazlum Abdi, met with the Committee of Wise people in Northern and Eastern Syria.
Hesen Ferhan Ebdulrehman Al-Esaf, Fewaz Al-Zobai Al-Milhim, Fuad Ibrahim Al-Pasha, Mihemed Adil Ebdulselam, Kerim Al-Ziêter, Samir Cemal Tirkî, Haşim Ehmed El-Dey, El-El-Rendel, Ebdulmecid Oso, Dr. Sîrob Bago Îzîz, Abdiîn Bedirxan, masmaîl Çeto, Mihemed Îso, Hekem Xelo, Hember Hesen and Dr. Ebdulbaqî Yousif were the wise leaders who attended the meeting.
During the meeting, Abdi evaluated the agreements reached with the international states related to the north and east Syria regions and the agreements made with the international states in order to protect the regions where the Turkish state tries to change the demographic structure.
Abdi said that the forces continue to protect the region's pluri-colored structure, security and internal peace and said it was their duty to explain these agreements to the people.
Abdi pointed out the importance of the unity and solidarity of the wise leader against the threats and the attacks.
The wise people confirmed their commitment to the SDF and expressed that they will continue to defend the gains of the region together with the SDF. The wise leaders also called for the strengthening of unity against the Turkish attacks.