Thousands protest the conspiracy in Rojava
The 15 February 15 international conspiracy was protested in many cities of Rojava.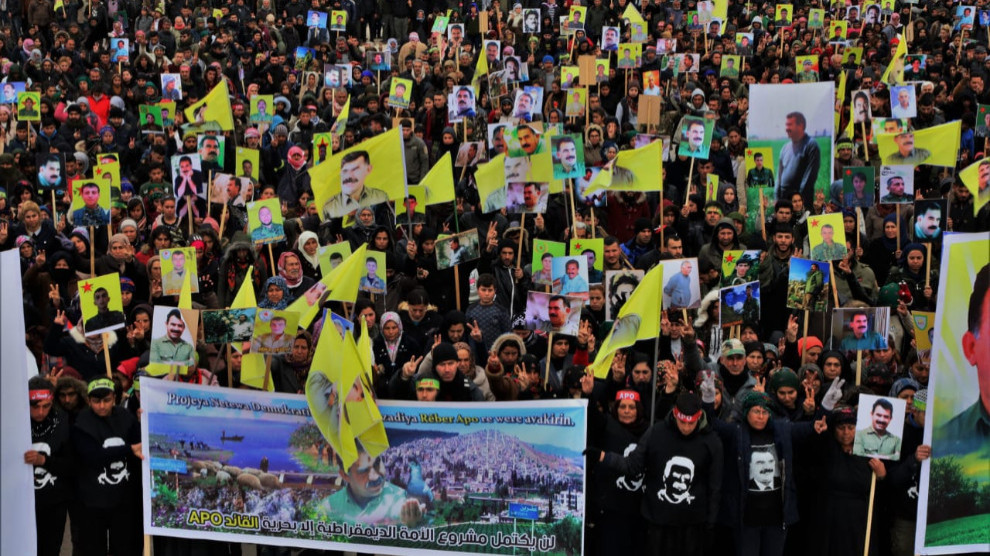 Tens of thousands of people in different cities of Rojava took to the streets on the anniversary of the international conspiracy against Kurdish people's leader, Abdullah Öcalan.
DERIK
Thousands of people gathered in Freedom Square in Derik chanting slogans saluting the Imrali resistance.
The march turned into a rally in front of Martyr Bawer Center. Kongra Star executive Wesfa Murad said that Öcalan had spoiled the conspiracy with his in Imralı. Derik Regional Council co-chair Mihemed Abdullrehîm stated that the conspiracy targeted the philosophy of the free society.
GIRKÊ LEGÊ
A large crowd gathered at Martyr Xebat Derik Square in Girkê Legê. The people marched through the city center, where shopkeepers kept the shutters closed. Kongra Star executive Norşan Afrîn said: "The Turkish state wanted to prevent the leader's ideas from reaching the people but it failed. Today we live freely thanks to the ideas of Önder Öcalan."
Girkê Legê District Council co-chair Mihemed Cemîl condemned the conspiracy.
QAMISHLO
Thousands of people, including veterans, took to the streets in Qamishlo.
Domestic Security Forces and HPC provided security for the crowded march, together with traffic forces.
Kongreya Star Hêva Erebo said: "The Rojava revolution is an answer to all the conspirators trying to destroy the leader and the philosophy of Öcalan."
TIRBESPIYÊ
Hundreds of people gathered in the district of Tirbêsiyê in Qamişlo in front of Kongre Star center.
The march through the main streets of the city turned into a rally in front of Martyr Yekta Herekol Academy. Tirbêspiyê District Council co-chair Abdulrehim Hiso addressed the crowd.
ÇILAX
Hundreds of people gathered at Martyr Mahsum Junction in Çilaxa, marched to protest the 15 February international conspiracy.
TIL HEMÎS
The march in Til Hemis began in front of the District Council. Thousands of people joined the march, chanting slogans to condemn the conspiracy and isolation practices.
Kongra Star executive Nebûye Hisên said that Arab women lived for years under the dominant mentality of men, and that they met freedom thanks to Öcalan's ideas and philosophy.
TIL BIRAK
Hundreds of civil society organizations, county council members and people gathered in Til Birak to protest the international conspiracy against Öcalan.
AMUDÊ
The international conspiracy was protested in Amudê and its villages. Civil society organizations, political parties and the people who have been on hunger strike since yesterday gathered in front of the youth center in order to condemn the international conspiracy against Öcalan.
Ziwer Eli, member of the Amudê Martyrs' Families Assembly, addressed the crowd at the rally in Jin Azad Square (Free Women Square).
"Thousands of people were inspired by Öcalan's ideas and thousands of people are resisting for the freedom of Öcalan," said Kongre Star Amudê executive Mediya Saed.