Thousands protest the Jindires massacre in Qamishlo
In Qamishlo, thousands of people condemned the killing of four Kurds by pro-Turkish mercenaries in Afrin and called on the international community to act against the occupation.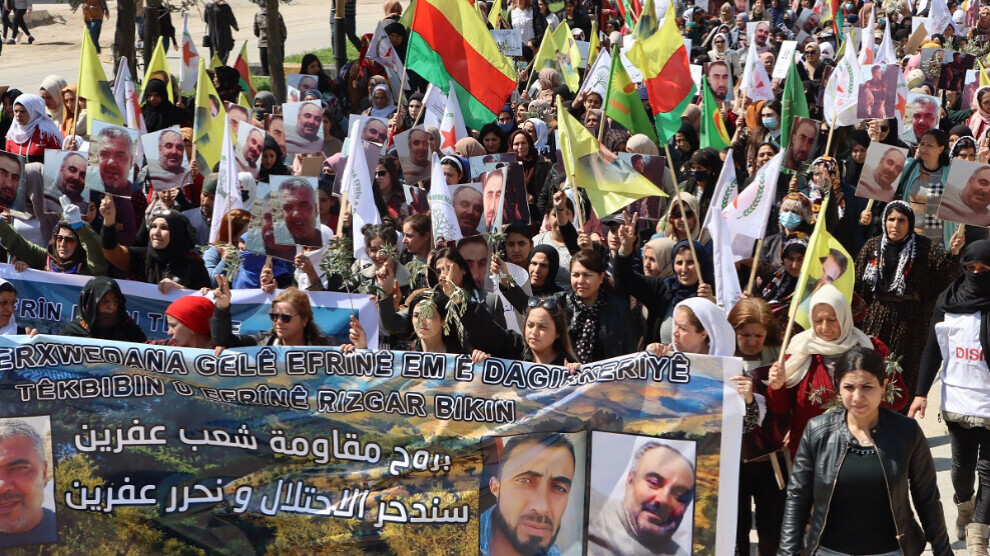 In the autonomous region of northern and eastern Syria, protests against the murder of four Kurds from Afrin by Turkish-backed mercenaries continue. In Qamishlo, thousands of people took to the streets on Wednesday to condemn the "Newroz massacre" and called on the international community to act against the war crimes and human rights violations in the Turkish-jihadist occupation zone.
"The Western community of values, guided by principles such as the universal validity and indivisibility of human rights and respect for human dignity, continues to turn a deaf ear and a blind eye to the inhumanity practised by the occupiers in Afrin and other occupied areas of northern Syria. We do not want to accept this any longer," was the message of the demonstration in Qamishlo, in which people from Tirbespiyê, Til Hemîs, Til Birak and Amûdê also took part.
"By remaining silent, you are not only making yourself complicit. You are violating the principles of your organisation's charter and thus international law," said PYD politician Hêvî Silêman, looking at the United Nations office. The crowd behind her chanted: "Long live the resistance of Afrin" and "The occupation will be crushed - Afrin will be liberated". Banners read, among other things, "The spirit of the resistant people of Afrin will defeat the invasion".
The four Kurds whose murder was protested were originally from the district of Shiye near Afrin. They had been living in Jindires district since the invasion of Afrin in 2018. They were shot dead by mercenaries of the Ahrar al-Sharqiya militia, which is loyal to Turkey, on the night of Newroz, the Kurdish New Year, celebrated on 21 March. An eyewitness, whose brother is among those killed, reported that the terrorists first insulted the men for lighting a Newroz fire and then threw stones at them before turning their weapons on them. Protests against the killing of the Kurds have now been going on for over a week. In Afrin itself, people are also taking to the streets daily, demanding the withdrawal of all militias from the region and the release of all Kurdish prisoners, as well as the return of houses and other property seized by the occupation.