Victims of Turkish attack laid to rest in Qamishlo
Speakers vowed to keep the resistance going until Turkish invasion of North-East Syria is brought to an end.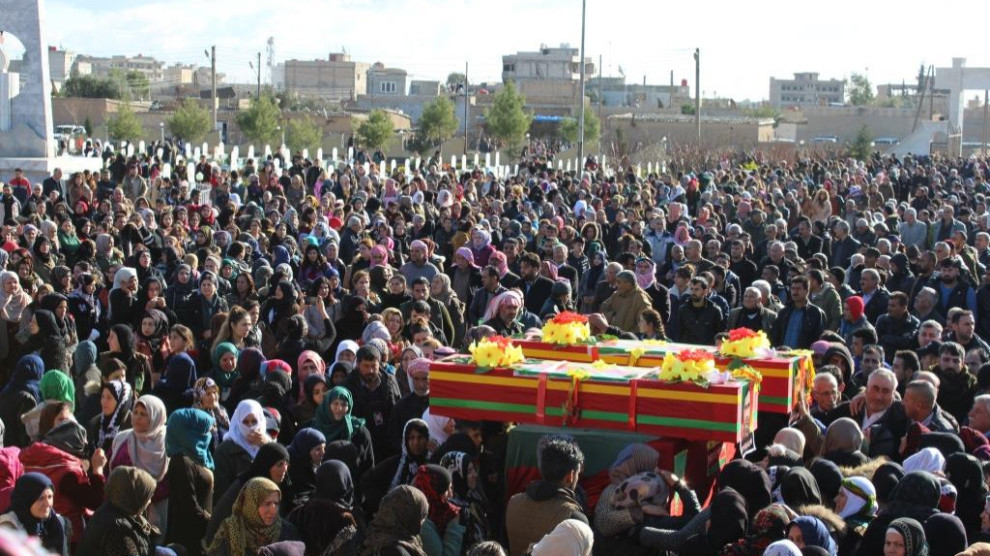 A massive funeral ceremony was held in Qamishlo for two members of the Internal Security Forces who were martyred in Turkish drone attack in Dugure village of Tirbespiye on Sunday.
Thousands of people bid farewell to fighters Ebas Ebas and Ridwan El Hemîdî at the Şehîd Delîl Saroxan Cemetery of Martyrs in Qamishlo.
Speaking at the funeral which began with a minute's silence in memory of all martyrs, Îdan El Efînî from the Council of Martyrs' Families offered condolences to the families and relatives of the martyrs and promised the martyrs to keep their struggle going.
Speaking after, Kongreya Star Coordination Member Asya Abdullah saluted the resistance of the peoples of North and East Syria and offered condolences to the families of martyrs.
"Two young men, one of them Arab and the other Kurdish, were martyred by the Turkish state. This attack proves the fact that the Turkish state targets the equal and common life here. The Turkish state, which has a history full of massacres, is now committing massacres in the 21st century before the whole world to see."
Abdullah called on the Syrian regime and world states to stand against the occupation attacks of the Turkish state.
Pointing out their basic right to live in peace on their own lands, Abdullah continued; "Thousands of people have fallen in the fight against the ISIS and the Turkish state. They sacrificed their lives to live freely in their homeland. Our resistance continues and will not end until victory is achieved. We will enhance the struggle in all areas and we will continue to resist until our lands are cleared of Turkish invasion."
After the death certificates of the martyrs were read out and handed over to families, the two martyrs were laid to rest with slogans.