YPG/YPJ International calls for action against Turkish attacks on North-East Syria
"We call on people everywhere who value democracy, equality and women's freedom to shine a light on what is happening in Rojava, and to take action to hold world governments accountable for their complicity in Turkey's crimes."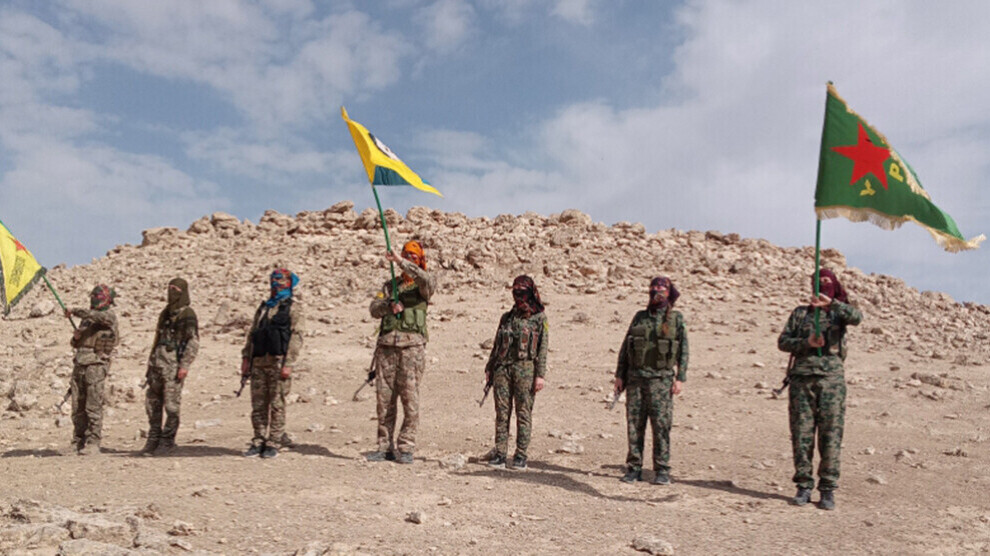 YPG/YPJ International released a statement denouncing last night's Turkish attacks on Rojava and vowing to defend the revolution at all costs. The statement issued on Sunday includes the following:
"Last night the fascist Turkish state began a series of heavy airstrikes throughout North and East Syria, hitting the historic city of Kobane, as well as other targets including Shehba, Dêrik and Zirgan. These hostile attacks represent a clear escalation, as the threat of a major invasion continues to loom over the region.
Turkey's choice of targets demonstrates the sinister nature of their intentions, attacking villages which are home to thousands of refugees from Turkish-occupied Afrin, as well as Kobanê, the site of Rojava's historic resistance against ISIS. By attacking Kobanê, Turkey attacks the most powerful symbol of this revolution - of its strength and resistance; of the resilience of its people; of its victory against all odds. To attack Kobanê is to attack the heart and soul of this revolution. At the time of writing, bombs continue to rain down on the city, as Turkish officials take to the internet to brag about their crimes. They announced their new operation as a "time of revenge" for a recent bombing in Istanbul, which they baselessly (and conveniently) attribute to the Kurdish freedom movement. In fact, emerging evidence points to the likely involvement or knowledge of the Turkish state itself.
The true target of these attacks is not the SDF, but society here itself - the people and their movement for democratic autonomy. Their goal is not only military victory, but a genocidal policy meant to terrorize local communities and dominate the region through the expansion of a neo-Ottomon empire. To this end, last night, they bombed not only military targets but civilian villages, a grain facility, and even a hospital.
These airstrikes could not have been carried out without tacit approval from both Russia and the United States, who respectively control the region's airspace. In this context, the statement by the US Consulate warning US citizens one day before the attack to "avoid border areas" due to a "potential Turkish military action" takes on an especially sinister tone. Once more, the United States is showing that it is only in Syria to pursue its own interests - happy to use the SDF as partners against ISIS, but quick to turn their back on these same "allies" as they face the brutal attacks and occupation of its precious NATO-partner Turkey. While President Biden may wish to distance himself from Trump's 2019 troop withdrawal, his passive approval of Turkish aggression makes him every bit as responsible for the violence that will follow. Ironically, as before, the foreseeable consequences of a Turkish invasion will be a gift to ISIS, inevitably drawing our resources away from counter-terrorism operations in order to defend the northern border against Turkey.
As Ukraine continues to receive an outpouring of attention, sympathy and support from around the globe, the world remains silent as NATO-member Turkey carries out its own war of aggression against the Autonomous Administration of North and East Syria and all of Kurdistan. This hypocrisy is not lost on us. We will not forget.
Rojava must not stand alone. We call on people everywhere who value democracy, equality and women's freedom to shine a light on what is happening in Rojava, and to take action to hold world governments accountable for their complicity in Turkey's crimes. Today, Rojava represents a global frontline against fascism, where the paradigms of domination and liberation face each other in a battle for the future of humanity. Those of us on the ground as internationalists will do whatever it takes to hold the line. In the spirit of internationalism, we will defend the revolution at all costs!
Bijî berxwedana Rojava! Long live the resistance of Rojava! Jin, Jiyan, Azadî! Women, Life, Freedom!"