Prof.Dr. Trabert: Children in Rojava are dying due to the embargo
Prof. Dr. Gerhard Trabert said there is a severe shortage of medicine in Rojava due to the embargo and added that children in particular are struggling with Mediterranean anemia.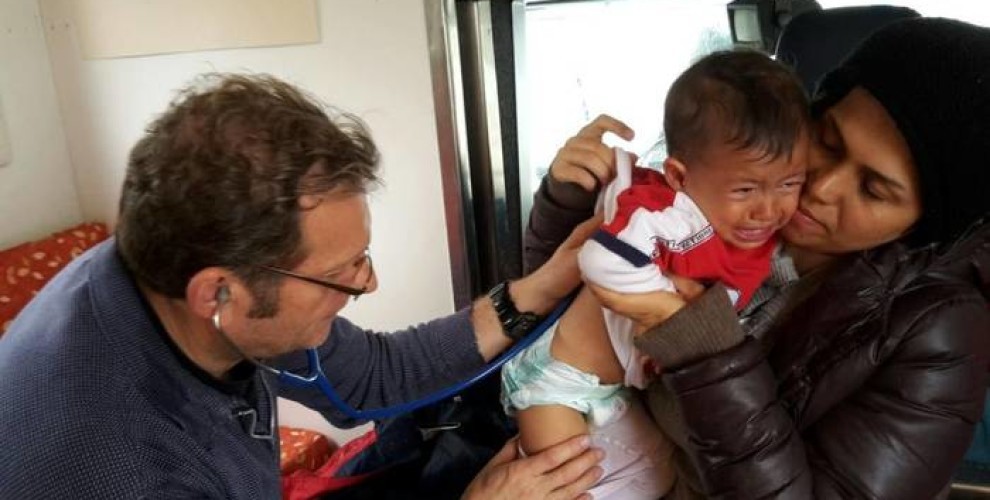 One of the top regions Prof. Dr. Gerhard Trabert, founder and chairperson of the prominent German NGO Poverty and Health Association (Armut und Gesundheit e.V.), is interested in has been Rojava for a while.
Prof. Dr. Trabert has visited the region several times and inspected medical services provided in situ. He has been helping to alleviate the problems Western Kurdistan and Syria have been having in the medical area. Prof. Dr. Trabert and his team had visited Rojava in July to provide at least some medicine in July.
Prof. Dr. Trabert returned to Germany recently, and spoke to German state television ZDF about his impressions in the region. The German doctor said there is an urgent need for all medical equipment, starting with premature birth incubators and plastic surgical tools.
"CHILDREN ARE DYING BECAUSE OF THE EMBARGO"
Prof. Dr. Trabert pointed out that the embargo implemented by the Erdoğan regime on one hand and the Damascus administration on the other is causing severe shortages in medicine and said: "Children are dying because there is no medicine, what century is this? This is a crime against humanity."
Prof. Dr. Trabert demanded that Germany's federal government take immediate action to lift the embargo and pointed out that children in particular are losing their lives due to Mediterranean anemia because there is not enough medicine. The condition appears due to a genetic defect, and is treated with blood transfusions. Prof. Dr. Trabert continued to give the following information:
"But bodies of the children who are given excess blood start to unnecessarily store iron after the treatment. This excess iron then starts to harm internal organs. When the organs start to fail, the children die in 15 to 20 years. There are medications to extract the iron, but they are very expensive and not available in Syria."
"THE DEMOCRATIC MODEL IN ROJAVA MUST SURVIVE"
Prof. Dr. Trabert said if the embargo imposed upon Rojava is lifted, the medicine issue will be resolved and conditions like Mediterranean anemia, which is seldom seen in other countries throughout the world, will not exist. The German scientist pointed out that ISIS and the Turkish state specifically target hospitals and medical institutions in their attacks against the region, and added that hospitals being operational again is also tied to the embargo.
Prof. Dr. Trabert also stated that the Kurds have formed democratic administrations together with other peoples in the region, and that this should continue: "There is a modern and democratic society there. Women have equal rights to men, if they want they wear the hijab and don't wear it if they don't want. We saw many women who dressed like Westerners."
Prof. Dr. Trabert also pointed out that democratic administrations have been formed everywhere and added: "We saw these administrations in refugee camps as well, and they function magnificently." The German scientist said democratic Kurdish forces should be supported: "Most importantly, the aid coming from the outside world should directly reach the Rojava region."
WHAT IS MEDITERRANEAN ANEMIA?
According to the findings of Prof. Dr. Gerhard Trabert and his team, at least 300 children are struggling with Mediterranean anemia in Rojava. The condition officially called "thalassemia" is usually seen in Mediterranean countries, which is where its colloquial name comes from.
The condition is a type of anemia which is passed down to the child through the "beta thalassemia" gene from either parent. The factor that causes the anemia is a defect in the hemoglobin molecule in the red blood cells. The condition is seen more often in women.
The condition is seen in countries like Malta, Greece, Cyprus and Israel, and in cities like Antalya, Antakya and Mersin in Turkey.