Shehba people protest the Turkish state
Thousands of Shehba people marched to protest the isolation on Kurdish People's leader Abdullah Öcalan, and invasion attacks of the Turkish state on Rojava.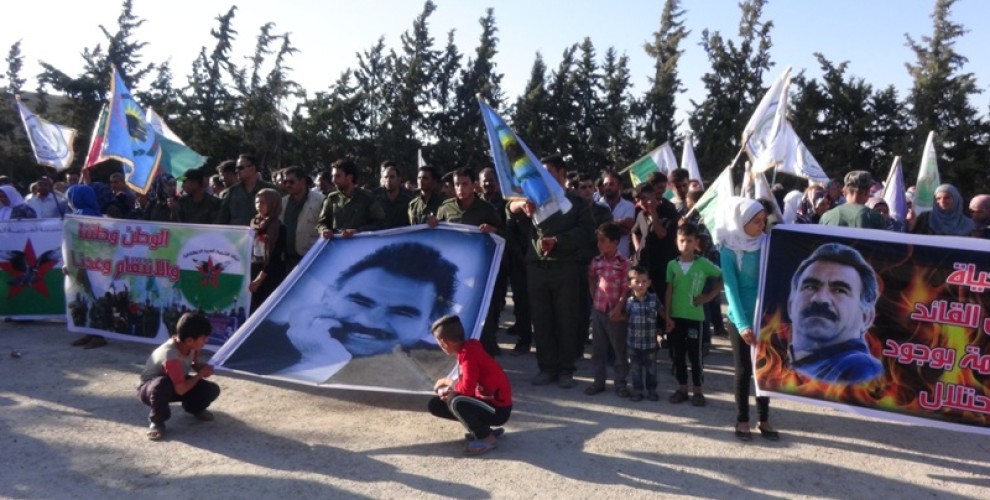 Within the scope of the campaign named "This is our land, We will retaliate invasion plans", Democratic Arab Youths Movement staged a march in Shehba Canton with the motto "There is no life without Öcalan, there is no honour with invasion".
Thousands of locals joined the demonstration along with representatives of Syrian Democratic National Alliance, Syrian Democratic Council (MSD), Council of Wise-Men and Tribes, and Executive Council of Shehba Canton, to protest against the aggravated isolation on Kurdish People's Leader Abdullah Öcalan and invasion attacks of the Turkish state on Efrîn Federal Region.
The mass set off from the Asayish headquarters and marched to the School Square in Kefer Naya district, chanting "Occupiers, leave our land", "The people of Shehba Canton won't ever submit", "Arab youths are free", "Long Live Shehba", "Long Live the resistance of the Revolutionary Forces", "No to invasion".
The mass consisted of a remarkably great proportion of young women, that adorned the scene with flags of Shahba Free Women's Union and symbols of various organisations and institutions in Northern Syria.
"SHEHBA WILL STAND UP AGAINST INVASION ATTACKS"
In the rally at the Kefer Naya School Square, speeches were held by member of the Democratic Arab Youths Movement Administrative Board, Adil Feraşîn, Al-Bab Council co-chair Fidan Osman, member of MSD Youths Board Merwan Yûsif, and Shehba Canton Free Women's Union member Mîdiya Hemdî.
The speakers highlighted the resolve of the people of Shehba Canton to stand up against all attacks of the invading Turkish state, and their commitment to support the Revolutionary Forces for a democratic Syria for all peoples.
The rally ended with chants of the slogans "Martyrs never die" and "Long Live the resistance of Öcalan".