8 March celebrated in many cities of Southern Kurdistan
International Working Women's Day was celebrated with various events in Hewlêr, Sulaymaniyah, Kirkuk, Shengal, Maxmur, Germiyan and many other cities of southern Kurdistan, northern Iraq.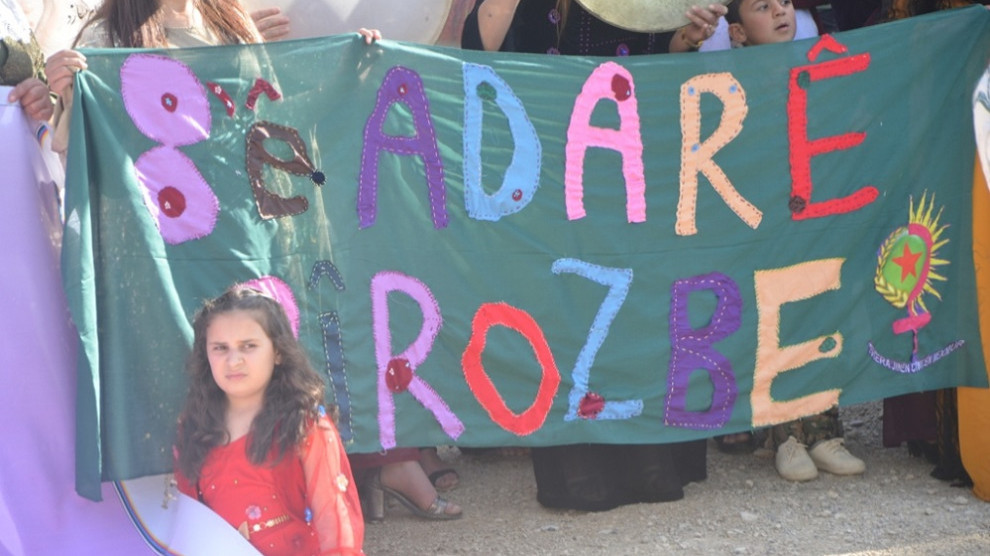 In Southern Kurdistan, women took to the streets in many provinces, districts and towns and celebrated 8 March, International Working Women's Day with various events.
A group of women affiliated to the organization 'The Voice of Women' in Hewlêr, one of the largest cities in Southern Kurdistan, distributed daffodils to women. Speaking on behalf of the Women's Voice group, Selwa Cevher said that they wanted the regional president and prime minister of Southern Kurdistan to prevent violence against women.
RJAK celebrated March 8th by distributing daffodils in Kirkuk, Ranya, Chamchamal and Derbendixan.
Shengal
International Working Women's Day was celebrated by women with great enthusiasm and a ceremony in Shengal. The women gathered in the Sinune district of Shengal to join the celebration organised by the Free Yazidî Women's Movement. The women marched to the area of the celebration chanting slogans like "Jin Jiyan Azadi" and "Biji Serok Apo". Speakers at the event, with the slogans "Revenge of Yazidî women" and "We will ensure the autonomy of Shengal", said that the revenge of the Yazidi women will be taken and Shengal's autonomy will be ensured. The women wore national clothes according to the Yazidi tradition.
Maxmur
International Working Women's Day has been celebrated with the participation of thousands of women in the Maxmur Refugee camp, which has been under the embargo imposed by the KDP and the regional government since 17 July.
The celebration at Şehid Rustem Cudi Refugee Camp was led by Maxmur Ishtar Council and the Young Women's Council. During the celebration photos of Kurdish People's Leader Abdullah Öcalan, as well as PKK, KCK, KJK, PAJK, YJA Star, TJA flags were opened.
The celebration was joined by women wearing traditional clothes and started with a minute's silence in memory of the martyrs of the Kurdistan Freedom struggle. Speaking at the event, Çiçek Cengiz Ürek, Coordination member of Ishtar Assembly, said: "Women have given their lives in resistance struggle and achieved great gains in four parts of Kurdistan. The Rojava Revolution is the best example of this. Therefore, the Rojava revolution is a women's revolution."
Underlining that the architect of the struggle is Kurdish people's leader Abdullah Öcalan, Ürek said: "Öcalan is fighting for the freedom of women under all circumstances. We, women of Maxmur, say that our struggle will continue until our leader Abdullah Öcalan is free".
After the speeches, songs and music were performed by various bands.