KJK condemns the assassination of Nabisada, calls for solidarity with women in Afghanistan
Following the assassination of former MP and women's rights campaigner Mursal Nabisada in Kabul, the KJK reiterates its call for solidarity with women in Afghanistan.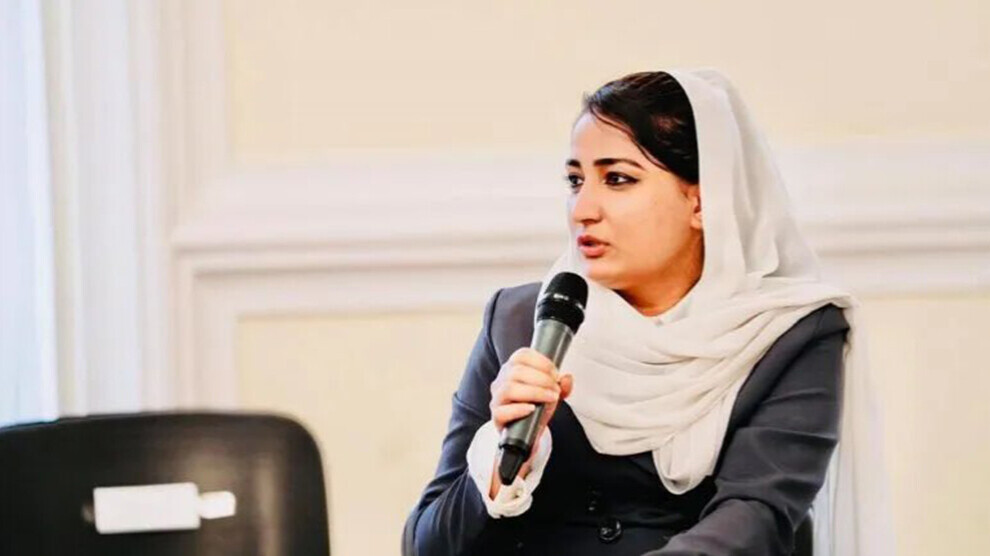 The Coordination of the Kurdistan Women's Community (KJK) is calling for an expansion of solidarity with the women's struggle in Afghanistan in light of the murder of women's rights activist and former MP Mursal Nabisada. The 32-year-old was shot dead together with her bodyguard in her flat in Kabul on Sunday. Her brother and another bodyguard were wounded. The slain woman was one of the few female politicians who had not left the country after the transfer of power to the Taliban.
The KJK statement on the murder of Mursal Nabisada includes the following:
"We have always drawn strength from the struggle of women in Afghanistan, and we want them to know that we are with them, making the coexistence, freedom and equality created by the philosophy of 'Jin Jiyan Azadî' [Woman, Life, Freedom] grow everywhere.
"NEW MASSACRES EVERY DAY"
Peoples and especially women are daily the target of massacres by the powers of capitalist modernity seeking to protect and maintain their hegemony over the territories divided among them. In this way, new areas of exploitation and interest are meant to be opened up. This policy can undoubtedly be called the colonialism of the 21st century. The situation in many countries and regions such as Kurdistan, Iraq, Palestine, Afghanistan, Libya, Eastern Europe, Syria, Ukraine etc. illustrates this inhuman colonialist reality of the capitalist system.
"CRIMES AGAINST HUMANITY ARE BEING COMMITTED"
In many countries in the Middle East, chaos and crisis are intensifying and more and more women are being massacred. Afghanistan is undoubtedly one of the most important countries in the Middle East. There is permanent crisis and chaos there. Women are the most affected by this situation there. In Afghanistan, the will of women is suppressed by the Taliban regime. Violence against women has reached extreme levels. In all areas of life, such as education, health, economy, law, politics and social affairs, even in parks and gardens, there are sexist measures and attacks that separate women from men, exclude women and force them to veil themselves. Starting with the female body, everything that has to do with being a woman is criminalised. It is forbidden to go for a walk alone or to take a taxi. Girls of middle and high school age are no longer allowed to go to school and - according to the latest decision - no longer allowed to attend universities. If women protest against these inhuman practices, they are punished with floggings. The argument used to legitimise these practices, these crimes against humanity, is the phenomenon of honour, which is fed by religious backwardness.
"WOMEN ARE NOT CONSIDERED AS HUMAN BEINGS"
The misogynist groups created by the capitalist system, such as the Taliban, ISIS and al-Qaeda, seize every opportunity to make life almost impossible for the peoples and especially the women of the region through their feminicide policies. Today, women around the world are organising against feminicide, exploitation, enslavement and patriarchal regimes. They are radically criticising the exploitative order. At the same time, women face severe systemic violence at the hands of the state, domination-oriented forces. In a country like Afghanistan, since the reactionary, cruel and misogynist Taliban forces were brought back to power by the hegemonic powers in 2021 in front of the eyes of the whole world, women have been excluded from public space. This misogynist regime, which does not recognise women as human beings and sees women's only raison d'être as serving men, massacres women day after day.
"THE MURDER OF NEBISADA IS A MESSAGE TO WOMEN"
The murder of former MP Mursal Nabisada by allegedly unknown assailants is the result of this brutal regime. Although the Taliban regime claims that the perpetrators are unknown, we women know very well who the perpetrators are and the cruel, dark mentality from which they sprang. The killers of all the women who have been murdered, like Mursal Nebisada, are known. It is the sexist, power-obsessed, fascist, male-dominated system. A system that has nothing to do with humanity, rights and universal values. It is the cause and responsible for all these inhumane practices imposed on women. The shooting of Nabisada, one of the few female politicians who did not leave her country after the Taliban took power, is a message to women.
"THE FEAR OF WOMEN"
The attitude of Kurdish, Persian and Afghan women represents a concrete example of how women who discover the power of resistance do not stop shaking these regimes, no matter what regime, power or authority is at work. The patriarchal system calculates that it can prevent women from fighting by criminalising that struggle. The male system, fearing that power will slip out of its hands through women's struggle, is attacking women all over the world. Today, women's struggle is targeted by all regimes. They fear the presence of strong women who speak out, organise and take action. This is the reason for the intensified oppression and violence imposed on women's work, bodies and lives. The rollback of women's gains, the ban on abortion imposed by the states and all forms of violence against women are expressions of fear of the growing number of women who are gaining consciousness and will.
"WE NEED TO ORGANISE OURSELVES WITH CONSCIOUSNESS OF SELF-DEFENCE"
In the 21st century, the ruling patriarchal system attacks women who themselves create the hope of an egalitarian life and society through their strength. It should not be forgotten that the patriarchal system is also trying to pull women into this system, to remove their struggle from its original meaning and to deprive it of its radicalism. Liberalism is the means to this end. These liberal traps developed to divert women's struggle from its path and contain it are essentially the same as the oppressive and racist practices developed by patriarchal states, the jihadist forces and conservative governments. We know that conservative and liberal orientations that systematically feed and strengthen sexism pose a serious ideological threat to the women's movement. Therefore, as women, we need to organise ourselves much better with the consciousness of self-defence against systemic male violence and make the struggle effective and comprehensive in all areas. As women, our anger against this ruling system that is responsible for the exploitation, unjust practices, death, assault, rape, torture and poverty imposed on us in all spheres of life is growing day by day. Women's struggle and resistance will be able to put an end to all these inhuman practices.
"SOLIDARITY WITH THE WOMEN OF AFGHANISTAN"
On this basis, we call on all women to strengthen their solidarity against these inhuman practices to which women in Afghanistan are subjected. We must oppose with our minds, our conscience and our organised will these cruel forces who are the enemies of women's lives and freedom, who want to divide and antagonise women and make them accomplices to their own dirty politics.
For many years, Afghan women have resisted and continue to resist reactionary practices through various methods. Afghan women's organisations, women activists and solidarity groups have put up great resistance against the Taliban regime in various ways under slogans such as 'We will never give up', 'Every house becomes a place of protest', 'Remember Afghan women'. We salute this noble struggle of our Afghan sisters who defy oppression and sexism, and take this opportunity to call on all women's movements of the world to unite with our Afghan sisters, to strengthen the common struggle on all sides, and to call on all women of the world to stand against the dirty policies of their own states that legitimise the Taliban. Because male violence is the common point. Those who remain silent on this dirty, hypocritical and pragmatic policy of the states are complicit in the crimes of the states. For this reason, women who stand side by side and fight together will become stronger and achieve complete freedom.
"WE STAND WITH THE WOMEN OF AFGHANISTAN"
As Kurdish women, we express that we are with our sisters in Afghanistan today as we were yesterday. We have always supported the struggle for freedom of our Afghan sisters. We have drawn strength from the struggle of Afghan women and continue to do so. We want you to know that we are by your side, advancing the coexistence, freedom and equality created by the philosophy of 'Jin Jiyan Azadî' everywhere. Women's common struggle for freedom will save humanity. Therefore, Afghanistan will definitely be liberated through the struggle and resistance of women."