Kurds and allies in Paris "for justice, against impunity"
Thousands have gathered in Paris on the anniversary of the massacre that targeted three revolutionary Kurdish women.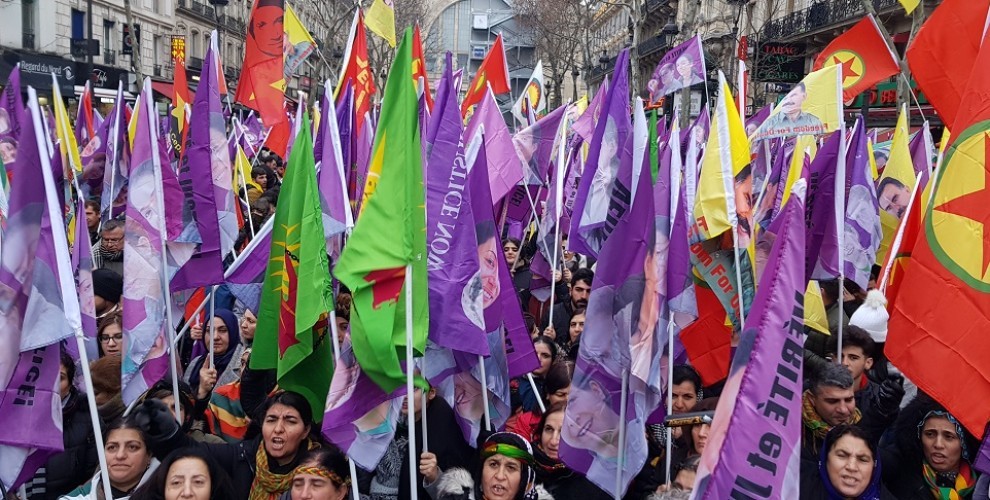 Kurds and allies have set out from throughout Europe early in the morning and have been arriving in Paris.
The gathering spot Gare du Nord is also close to the La Fayette street, where the massacre had been committed six years ago.
Protesters are holding photographs of PKK founding member Sakine Cansiz, KNK Paris Representative Fidan Dogan and Kurdish youth movement member Leyla Saylemez and frequently chant slogans protesting the Turkish state.
Dozens of French women's associations have declared support for the march this year. The Communist Party and various leftist organizations and leftist groups from Turkey are attending the protest to express solidarity.
The march on the sixth anniversary of the massacre is held under the motto, "for justice, against impunity". Despite numerous documents that indisputably establish direct responsibility by the Turkish MIT, no lawsuit has been filed yet. Murder suspect Omer Guney died in prison by late 2016 under suspicious circumstances.
According to information provided by the organisers, over 100 buses are coming from various European cities, and Kurds and allies are coming to the Gare du Nord with their own vehicles and by train.
There is no clear information right now about the size of the crowd as protesters continue to arrive. Humanité newspaper's director and Communist Party member Patrick Le Hyaric was seen in the protest grounds. Many other French politicians are expected to participate in the protest.
The protesters are calling on the French state to expose those who ordered the massacre and to put them on trial, and they are sending messages of solidarity to the ongoing hunger strikes.
Among the fundamental demands of the protest in Paris are justice, an end to the isolation imposed upon Kurdish People's Leader Abdullah Ocalan, an urgent visit by the CPT to the Imrali Prison and an immediate end to Turkish invasions.
The crowd is expected to march to the Rebuplique Square and end the march with a rally. Messages about the massacre of 2013 will be given from a stage set up in the square.