Participants of the International Women's Conference in Berlin seek 'a new world'
At the Technical University in Berlin, the international women's conference "Our Revolution: Liberating Life" of the network "Women Weaving Future" was held on November 5-6.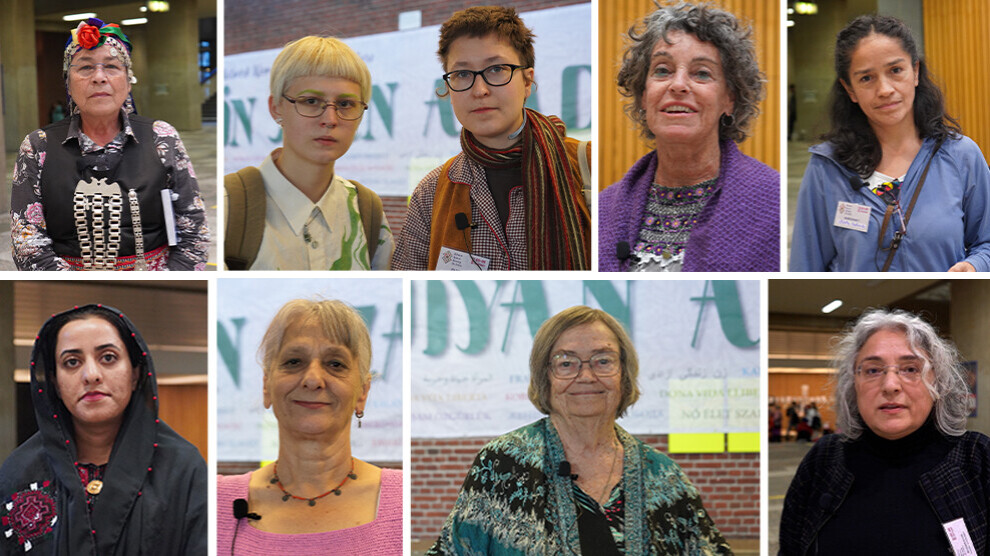 The 'Network Women Weaving the Future' held the 2nd International Women's Conference under the motto "Our Revolution: Liberating Life" at Berlin Technical University on November 5-6.
Women who attended the conference vowed to establish "a new world", saying that "our goals are the same."
'I HAVE BEEN EVEN MORE RADICALIZED'
Peace activist, feminist Genevieve Vaughan, who attended the conference came from the USA for the conference, said, "I am from the USA and Italy. I've been a writer and activist working for peace and feminism for 50 years. There is a really nice atmosphere here for a new world," Vaughan said.
"I have been even more radicalized than I was before because I feel the search of women's power and women's lives in this movement and along these lines of radicalism," she added.

'I HAVE LEARNED A LOT''
Sama Beluc from Baluchistan said that it was her first experience to participate in such a conference, which, she said, inspired her.
"It was a good experience for me. I have learned a lot. I have made new relationships with the Kurdish family," she added.

'FIRST TO LIBERATE OURSELVES''
Violetta Gallardo from Mexico, who lives in Paris, stated that she was grateful for the event because it invited all women to exchange ideas and to fight the violence they are suffering. "We are here to build peace. First to liberate ourselves, then to create peace in the world," she said.

'WE ALL HAVE SAME GOALS'
"We all have the same goals. Even if we come from different parts of the world, we have quite similar feelings," said Patricia Redzewsky from Berlin, originally from Poland.

'WORKING WITH KURDISH WOMEN IS VERY IMPORTANT'
Anastasia from Ukraine said she was happy to be there and to hear the different experiences of women all over the world.
Another Ukrainian participant, also Anastasia, stated that it was very important to work together with Kurdish women as Ukrainians in exile.

'OUR CAUSE IS SIMILAR TO THAT OF THE KURDISH PEOPLE'
Nélida Molina, spokeswoman for the Support Coordination with the Mapuche People in Madrid, said: "Our cause in Mapuche lands (central Chile and southwestern Argentina) is similar to the resistance of the Kurdish people. We have a lot in common. That's why I'm here. I have come to contribute to this process, to share our culture, language and values, and to emphasize the idea that the defence of nature is common to all indigenous peoples participating in this meeting. So, thank you very much."

'ALINA INTRODUCED ME TO KURDISH WOMEN'
Patricia Gordini, mother of martyr Alina Sanchez, said: "Before Alina, I knew nothing about the Kurdish people, and she introduced me to Kurdish women. Communication and atmosphere are very intense here. This conference is the affirmation of the good, of the revolution, of women's rights and everything."

'WE EMPOWERED EACH OTHER'
Semra Uzunok said: "I've been a political exile for 3 years. I'm from Turkey. I'm a Bosnian woman. The conference is a truly great organization where women from 41 countries come together, class and race differences are abolished, and an experience of womanhood is shared. I think that the women's struggle for the overthrow of the regime in Iranian Kurdistan has been a turning point. The slogan 'Jin, Jiyan, Azadi' (Woman, Life, Freedom) has become a worldwide slogan. Currently, not only in the Middle East, Kurdistan and Turkey, but also all over the world, women have adopted this slogan.

'WE ALSO TALKED ABOUT SOLUTIONS, NOT JUST PROBLEMS'
Havin Güneşer, spokeswoman of the International Initiative Freedom for Öcalan, Peace in Kurdistan and one of the organizers of the conference, said: "The conference has significantly met our expectations. Our goal was to discuss 'how we as women can jointly build a system outside of the state'. We talked about the fact that the isolation of Mr. Abdullah Öcalan, the chemical attacks against the resisting guerrillas and all similar attacks in Bakur, Rojhilat and Rojava are not just put into practice by Turkey, as capitalist modernity and NATO are also involved. Appeals were made for political prisoners. Messages of support and solidarity were also delivered for our dear Şebnem Korur Fincancı."