PYD women condemn Turkish occupation of Afrin
PYD women underlined the plight suffered by women in Afrin.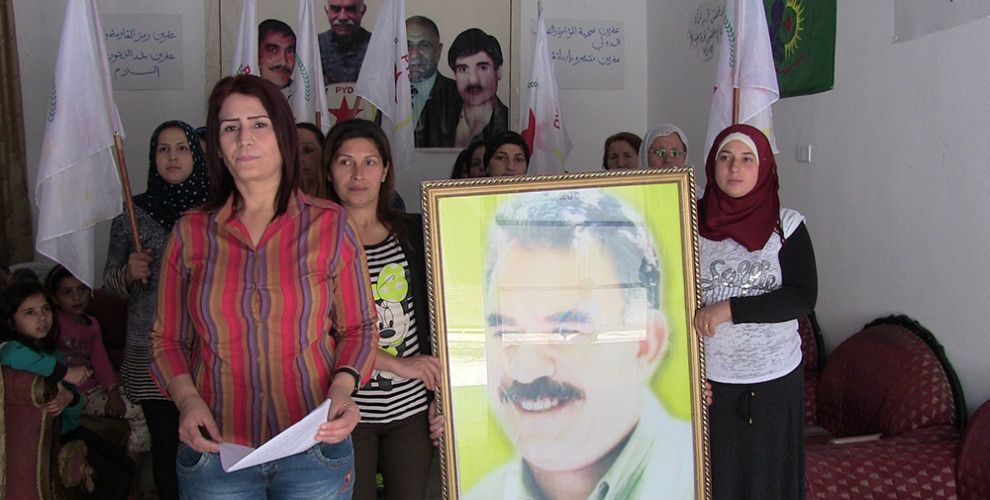 The Women's Bureau of the Democratic Union Party (PYD) held a press conference to draw attention to the brutality of the occupation of Afrin carried out by the Turkish state and the plunder of its mercenary allies.
The press conference was held in the Aleppo's neighborhood of Sheikh Maqsoud. Surrounded by PYD flags and Kurdish People's Leader Abdullah Öcalan posters, Narîn Mûsa read the declaration on behalf of the party's women.
The statement underlined that the international community and the UN Security Council did not truly seek for a solution to the Syrian 7-years long war and added that the wounds of the Syrian people are bleeding more than ever.
"The AKP government began to occupy part of the Syrian territory on 20 January 2018. The occupation of Afrin was undertaken by Turkey together with its Islamic mercenary allies and the approval and support of Russia. Before Afrin, the same fate was lived by Jarablus, Azaz and al-Bab, which have been occupied by the Turkish state".
The PYD women statement added: "The Turkish state wants to destroy the history of the peoples of this region by destroying historical places and civilization remains, by carrying out massacres. What we are witnessing is a crime against history as well as humanity".
The statement pointed out that "in order to change the demographic structure of the region, the Turkish state has condemned thousands of Afrin people to be displaced while settling the mercenary's families in their houses".
The PYD women underlined that "the Turkish state continues to implement its policy of destruction and annihilation of Kurdish people, especially those of Ezidi and Alevi belief. This genocidal policy includes forcing people to leave their house, confiscating their property as well as repressing them. Women have been perhaps the most affected, raped and kidnapped, while hundreds of citizens have been abducted and taken to unknown places".
The statement ended with the strongest condemnation of the violence imposed on the people of Afrin and especially women, and the promise of "keep struggling to free people and especially women from the brutality and violence of these terrorist forces".
At the end of the press conference slogans in support of the Afrin resistance and women's liberation were chanted.