Women in Sweden took to the street to demand the end of violence
Women took to the streets in Stockholm, Öreboro, Linköping, Motala and Norköping, condemning patriarchal violence.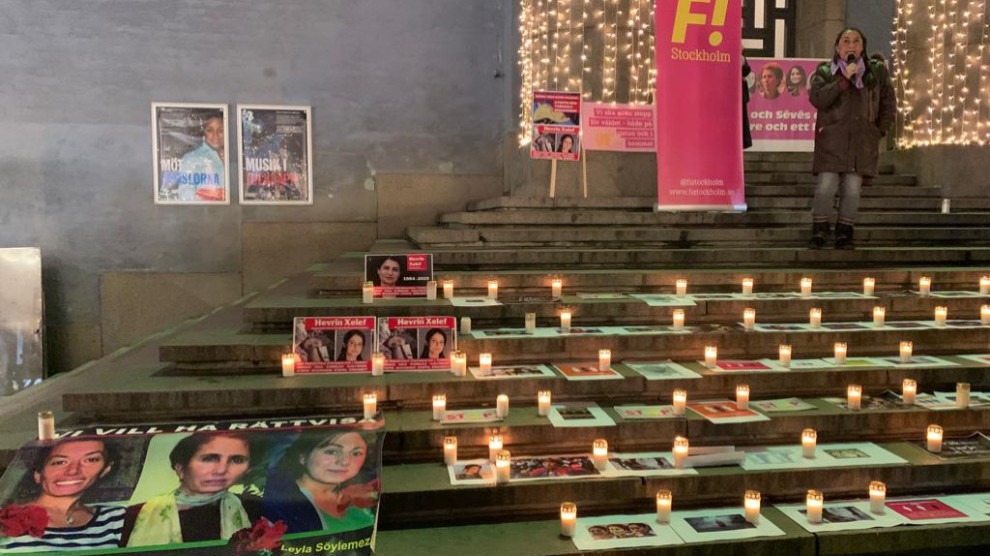 Women in Sweden called on the government to take measures to counter violence against women on 25 November, International Day for the Elimination of Violence against Women.
Panels and conferences about violence against women were held in Stockholm. 
The Feminist Initiative organised a demonstration at Höterget Square in Stockholm on Monday evening. Photographs of murdered women, including Sakine Cansız, Fidan Doğan and Leyla Şaylemez, and banners condemning violence were put up in the square. Candles were lit in front of them.
Speaking on behalf of the Amara Women's Assembly and the Sara Women's Union, Scapa Ericsson stressed that the patriarchal and capitalist system are the source of violence against women.
Ericsson, who shared the experiences of women in Rojava and northern Syria with the participants, said that women were leading the establishment of a feminist, ecological, fair and egalitarian system in Rojava and they defended the system decisively against the attacks of ISIS gangs and the Turkish state. The action called on all women to support the system in Rojava, to oppose the invasion of the Turkish state, and to participate in a demonstration in solidarity with Rojava on Saturday.
A panel and conference on violence against women was also held in Stockholm.
Speaking on behalf of Amara Women's Assembly, Ayşe Göktepe informed the participants about the struggles and experiences of Kurdish women in Northern Kuristan and Rojava.
Stressing that violence against women is political, Göktepe pointed out that Kurdish women organized in Rojava and Shengal resisted resolutely against attacks and occupation attempts by ISIS gangs as well as male violence.
Göktepe underlined that the Turkish state attacked Northeast Syria and Rojava in order to destroy the system established by women and called for women's organizations to support the resistance of Kurdish women in Rojava.
Barin Women's Association, Women's Houses and United Nations Women's Organization in Örebro province condemned violence against women with an action organized in the city center.
In the speeches made on behalf of women's organizations, it was pointed out that violence is the product of patriarchal mentality. More resources were demanded for institutions that assist women who have been subjected to violence.