"Women's freedom is more valuable than all other freedoms"
At the sit-in for the freedom of Abdullah Öcalan at the Council of Europe in Strasbourg, Zilan Diyar spoke about the significance of the Kurdish leader for the women's movement: "The freedom of women is more valuable than all other freedoms."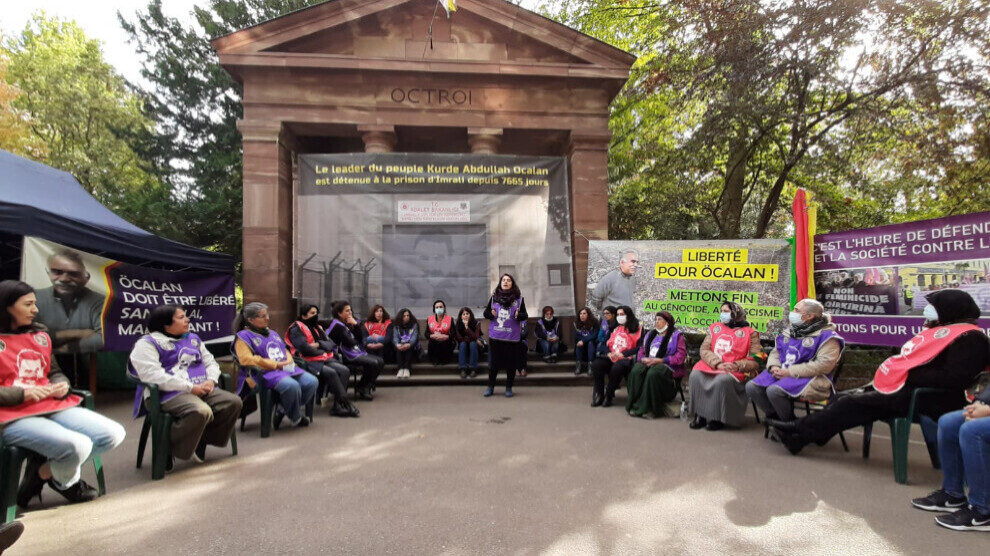 The sit-in for the freedom of Abdullah Öcalan, launched last week in front of the Council of Europe in Strasbourg, will be continued by activists of the Kurdish Women's Movement in Europe (TJK-E). The TJK-E on Monday took over the protest action which will last several weeks.
The women met again on Tuesday morning at the square with banners, signs and photos and put on purple capes with the inscription "Freedom for Abdullah Öcalan". While some of the women danced, other activists handed over information dossiers on the detention situation and the role of Abdullah Öcalan for a peace process to the permanent representations of the member countries of the Council of Europe. The dossier also deals with the Turkish state's attacks on Kurdistan.
Various activities are planned for the entire week as part of the sit-in action. Today, activist Zilan Diyar spoke about Öcalan's views on women's liberation. The lecture was introduced with Öcalan's statement: "Women's freedom is more valuable than all other freedoms."
Zilan Diyar said: "Why is Öcalan's freedom important for women? First of all, Öcalan is a pioneer of a paradigm based on women's liberation and an ecological society. Öcalan has been leading this struggle for over forty years. At the same time, he is an ideologue who designs solutions to the problems of our age. And what makes him different from other ideologists in the world? Other ideologists have also pointed out solutions, but Öcalan has also put them into practice. He is also a philosopher who puts existing problems in relation to their historical and philosophical connection. Another characteristic is his ability to bring about changes in people's lives. He can establish a dialogue with all people from young to old."
Although Öcalan is being criminalized, the Kurdish people have made it clear that they recognize him as their leader. According to Zilan Diyar, this was proven by millions of signatures confirming his role. In response to the question of why Öcalan placed the focus of his work on the liberation of society through the liberation of women, the speaker explained: "He began his struggle with an analysis of the society in which he grew up. From this he concluded that the existing contradictions must be resolved so that there can be a free society and free women. For example, he noted that women are not trusted in society. He then gave women trust and laid the foundations for women to trust themselves. In his fight against reactionary ways of thinking, he has at the same time taken measures against the system of rule. The foundation of a separate women's army and women-specific forms of organization thus has a dual character. Thus the women's movement grew and was able to act appropriately."
Commenting on the much-noticed Öcalan thesis "Killing the man," Zilan Diyar explained: "This was intended to change the prevailing mentality, both among men and women. With his view of a free equal life, he bases on putting the coexistence of both sexes, which has been going wrong since time immemorial, on a correct foundation. Even after his imprisonment he continued to work for the liberation of women. He said that he regretted above all not having completed this project. On Imrali he wrote twelve defense writs. In each of these writings he deals with the liberation of society through the liberation of women. This too is something that distinguishes him from other masterminds. There are feminists who do not understand the connection between Öcalan and the women's movement. This connection results from what I have explained here. This is also the essential difference to Marxism. The women's question cannot be postponed until after the revolution; women's liberation is the revolution."
RELATED NEWS: