YPJ pays tribute to Nupelda Bagok who fell in Serekaniye
Nupelda was in struggle to defend the values of the women's revolution, said YPJ and reiterated their promise to all their martyrs that they will continue on their path.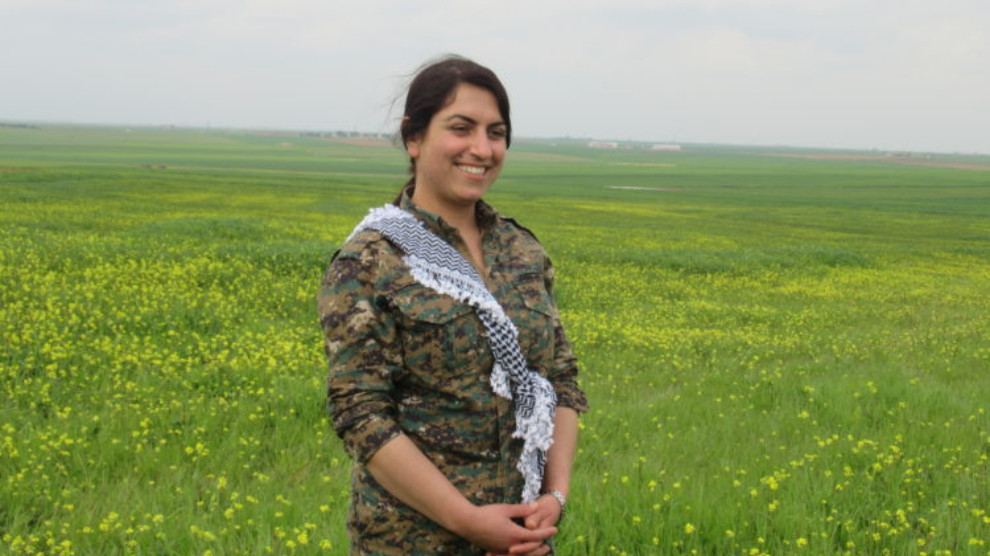 Women's Defense Units (YPJ) General Command paid tribute to fighter Nûpelda Bagok who fell in the Resistance of Honor in the Serekaniye (Ras al-Ain) city on October 18.
Remembering all the martyrs of the Honour Resistance and all the martyrs of freedom in the person of Nûpelda Bagok, YPJ wished condolences to her family and to their people, reiterating their promise to all their martyrs that they will continue on their path.
The statement released by YPJ General Command reads as follows:
"Since the 9th of October the occupying Turkish state and its allied killers have been intensely attacking our people, and the attacks are advancing. These attacks are continuing, with the goal of occupation and every kind of murder. Every one of our comrades has been willing to sacrifice everything to join the historic resistance in the face of this occupation. Every fighter and commander stood up to occupation in the hope and belief that we can resist and defend our land. We are eternally in debt to the effort and sacrifice of our fallen. To fall in struggle is truly to forever live a free life. Comrade Nûpelda was a leading example in the resistance and has become a symbol of a free life.
Comrade Nûpelda gave incredible effort and work for her comrades in the revolution. She took her place in Şehîd (Martyr) Zîlan autonomous women's unit. She always made a great effort to share her experiences from war and from life with her comrades around her. She was always looking for ways to become the answer to the questions, hope, faith and efforts of women and of her people. She took responsibility in the way needed in this time. Comrade Nûpelda was determined to go to Serekaniye and take her place in the defences there. Once again we saw in the personality of comrade Nûpelda and our comrades who have fallen in Serekaniye the immense effort and sacrifices made to build a free life. Our comrades have in this time shouldered the heavy weight of struggle. The sacrifice of our comrades renews our conviction to struggle. Comrade Nûpelda and our comrades who have fallen in this resistance were determined to defend their land.
We, the YPJ, have lost comrades at every step in the struggle for freedom. From the first war in Serekaniye in 2013 to Kobane, Manbij, Raqqa, Deir ez-Zor, Afrin and today in Serekaniye and Gire Spi we have given dozens of our comrades for this land. This land is already a land of martyrs. We must, as the people and as followers in the martyrs' footsteps, defend this land with our lives. We have already paid a high price and valiantly defended and today we will take the same responsibility and take our place on the front lines to make the same defence. This is the hope and belief of Şehîd Nûpelda and all our martyrs for us. By bringing about the hopes of our martyrs we are certain to achieve a free life.
On this basis, we remember Şehîd Nûpelda and all the martyrs of the revolution for freedom and the Honour Resistance. We offer condolences to the family of Şehîd Nûpelda, to all people seeking freedom, and the people of North and East Syria. Once again, we promise to all our martyrs that we will continue on their path."