AKP-led city administration in Derince bans a concert by Kurdish singer Aynur Doğan
The AKP-led city administration in Derince, western Turkey, has banned a concert by the Kurdish singer Aynur Doğan. The event is regarded as "not suitable", the municipality said.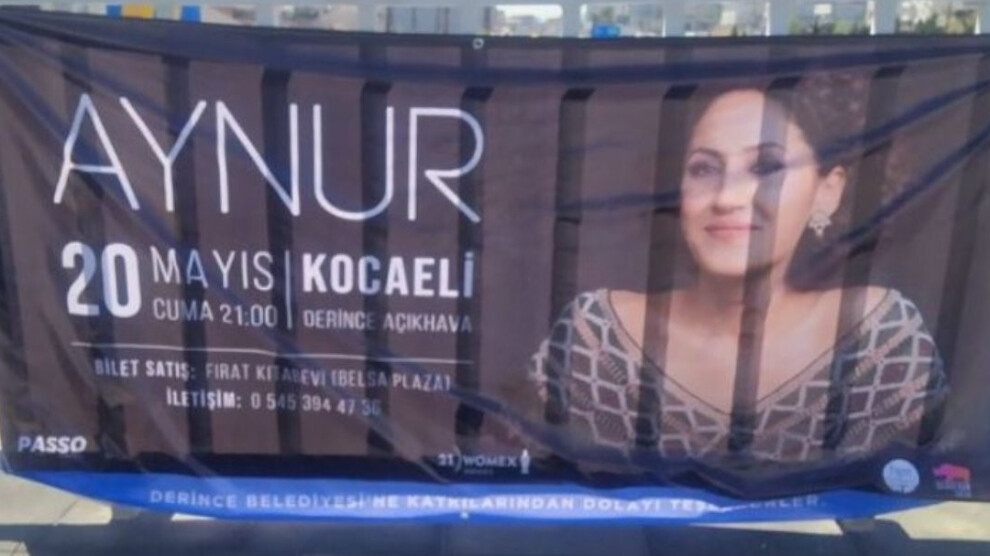 The city government of the Derince district in Kocaeli, which is run by the Islamist AKP, has banned a concert by the Kurdish singer Aynur Doğan. The event, which was organized by a private company and was to take place on 25 May in the Derince amphitheatre, was classified as "unsuitable" and prohibited after a thorough examination by the city administration, the municipality said in a statement on Twitter.
Meanwhile, an avalanche of indignation is rolling on social networks. Many users see the actions of the authorities in Derince as discrimination against Kurds and accuse the city administration of anti-Kurdish racism. Numerous entries on Twitter also point to an organized hate campaign by AKP trolls against Aynur Doğan. Apparent supporters of the ruling party of President Recep Tayyip Erdoğan defame the artist in tweets to the city administration of Derince calling her a "terrorist".
Aynur Doğan has not yet commented on the prohibited concert in Derince. The singer is performing today in the Philharmonic Essen as part of the world music festival "Sounds of East to West".
Ambassador of cultures
Aynur Doğan is one of the most famous singers from Kurdistan. With her extraordinary voice and stage presence, she has been one of the most important ambassadors of the Kurdish people on international stages for more than two decades. She repeatedly carried Kurdish folk music to the international bestseller lists and made her contribution to the fact that Kurdish music has experienced a hesitant comeback even in Turkey in recent years - despite all reprisals and traumatic memories of the times in which Kurdish cultural heritage was systematically destroyed in Turkey was ousted.
Born in Dersim, Aynur Doğan only discovered music when she went to Istanbul to finish high school. Attention was soon drawn to her particular voice. Spanish producer and guitarist Javier Limon said about her stage presence: "She is a reason to love live music for centuries." The Turkish judiciary accused the singer of influencing young women and calling them to join the fight in the mountains.
In 2005, this censorship was lifted and her presence in Turkey has increased. She starred as a Kurdish singer in the Turkish film Gönül Yarası (2005). This is something extraordinary insofar as the Kurdish language and parts of the alphabet were forbidden. In the same year, Aynur Doğan was portrayed by German director Fatih Akin in his documentary Crossing the Bridge – The Sound of Istanbul. In 2011 she left Turkey. The hostility and reprisals from the Turkish nationalist camp wore the artist down. Since then she has lived in Europe, but regularly tours Kurdistan and Turkey.