Amed City Theater fears for its future, as support not provided
After the usurpation of Amed Metropolitan Municipality by the AKP-MHP in 2016, the contracts of many artists within the City Theater affiliated to the municipality were terminated.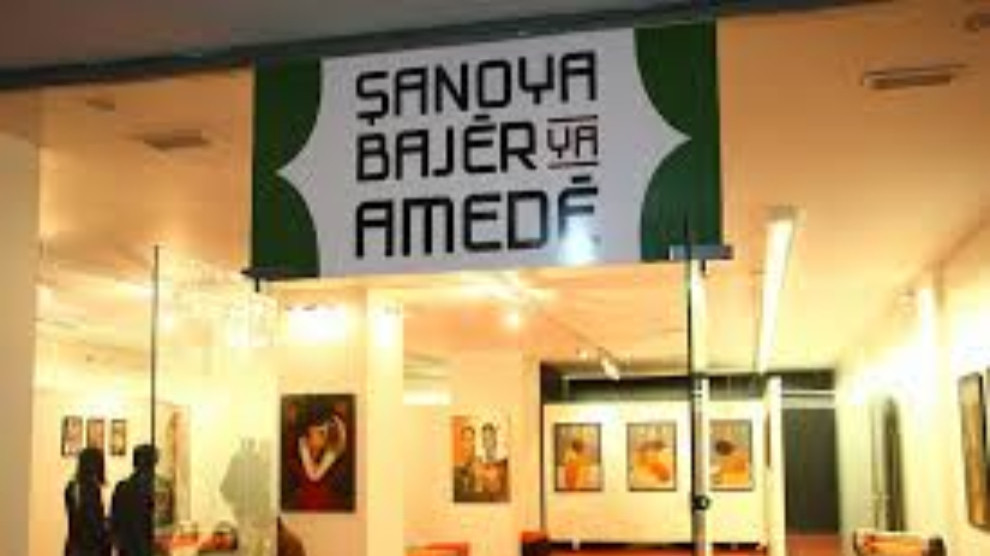 The actors then in response founded the Amed City Theater in February 2017 with their own means.
Then the Covid-19 outbreak came and Amed City Theater also closed its curtains. After the lockdown, theaters were opened in July again. However, both in Turkey and Kurdistan culture was badly affected.
Amed City Theater plans to open its seasons in October, as they do every year. But they say that financial difficulties affect them and health concerns add to the problems.
ANF talked with Zeycan Ateş from Amed City Theater about how they went through the pandemic process, their current situation and their projects for the future.
During the pandemic, all theaters were closed. So, how was the process for you?
After the pandemic was declared on March 11, theaters were officially closed on March 16. At that time, we had returned from a tour. We had gone to Istanbul, Ankara, Adana and Mersin. After returning, we started preparation for our new place. We were rehearsing for the Kurdish Theater Festival normally held in March-May every year. Everything stopped when the pandemic started. But the construction of our new space was continuing somehow. We, like everyone else, stayed at home. We continued worked from the house, reading, watching film or doing research, and I can personally say that I have done a lot of reading and research.
What kind of picture did you find when theaters opened again?
Normalization started in June, but theaters were opened in July. When we opened, the construction of our new venue was finished. Of course, the process for us lasted a little longer as we had to settle in this new place. We were excited about this because a new venue was very important to us. After the settlement work was completed, we immediately started the desk work for a new play.
A play for the new season? What is it about?
Yes, for the new season. "Elizabeth: Almost by Chance a Woman" by Italian playwright Dario Fo. [The play is a bawdy burlesque, a riotous nose-thumbing of authority, and a surprisingly touching insight into the challenges of womanhood. This hilarious farce focuses on Elizabeth I of England. It's a devastating satire on politics in the Age of Reagan. Elizabeth is this aging, forgetful monarch, see, who is obsessed with appearances.]
For now, it is not clear when we will open the curtain, it is not possible for me to give a date. But I can say that we were opening the season every year in October. Obviously, we have such a plan, but of course I cannot say anything about how the situation will be.
Private theaters are experiencing great difficulties with the epidemic. Most of them are not opened. The Ministry of Culture established a grant but only a portion was issued. What do you think about this? Did you apply?
The Ministry of Culture was going to issue the grant on September 23, but we did not make any application. There are a lot of private theaters inTurkey, but these funds always go to some. During the pandemic period, many theaters have been in trouble, if you do not present a play and the audience does not come, you do not have any financial income. Because the entire financial income depends on the tickets that the audience buys. We work here 16-17 people and we haven't opened the season yet. When we will finally open, we do not know whether there will be people coming or not. Our people say they will come, but ultimately we need to consider the health of both the audience and our colleagues. This is a serious problem; we need to provide health conditions as much as possible.
But today there is much need for incentives to the private theaters in Turkey, and we can't see this happening. Apart from the Moda Stage (Istanbul), no theater has opened so far. In fact, many theaters had anticipated that they would close and many actually did close during this pandemic. Without financial support, it is really difficult for theaters to survive under these conditions. We want to open the season with our new play in October, as we do every year; but frankly we do not know what awaits us. First of all, health and safety is very important and we are taking steps in this framework.