Artists declare their support for the HDP
Over 50 artists in Mersin stated they will vote for HDP on 24 June.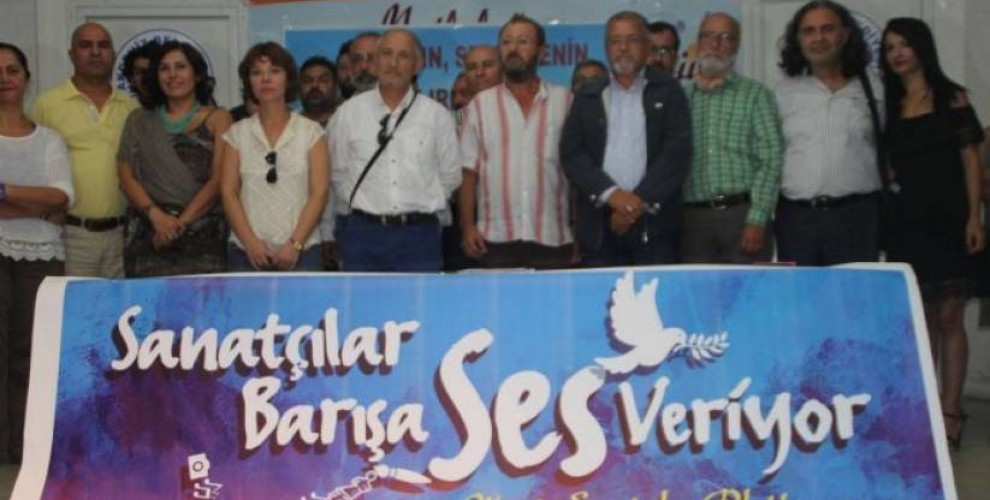 More than 50 artists in Mersin have stated they will support the HDP (Peoples' Democratic Party) in the forthcoming 24 June elections.
Well known writers, poets, photographers, painters, sculptors, musicians, actors and directors have announced in a written statement that they will give their vote to the HDP.
Underlining that the beauty of life has been stained by the AKP, artists wrote:
"Those who threatened the peoples on 7 June elections by saying 'If you do not give 400 deputies to the AKP, chaos will come', do not represent the tens of millions of oppressed, and poor in this country".
The statement added: "The AKP government turned the country into a semi-open prison by corroding democratic rights. The nuclear power plant that they started in our city [Mersin] is an obvious example of this violation".
Poets, writers, writers, designers, painters, sculptors, musicians, actors, actors, filmmakers and photographers said they signed the statement in support to the HDP to "put an end to all kinds of oppression on all cultures and beliefs. We advocate a just peace and an end to the sexist approach to LGBTI individuals and women. We want education to be modern, secular and in one own's mother tongue".
The statement is signed by:
Adil Okay – writer, Ali Kağan Aydın -musician, Ali Osman Abalı – photographer, Ali Sesal- actor, Ali Ziya- poet, Aslı Atas- actor, Asım İçli- actor, Azad İnan- musician, Bager Şen- musician, Bayram Karataş- musician, Bektaş Kandemir- poet, Cafer Demirtaş- poet, Çiğdem Akbaba- musician, Cihan Barış Budak- poet, Doğan Munzuroğlu- writer, Deniz Çağlar- writer, Dılbirin Barış Bozkurt- actor, Emin Aksu- writer, Emine Kocadağ- writer, Eray Çelik- musician, Erdal Dalgıç- poet, Göksu- writer, Güldest Arin-musician, Hasan Canel- sculptor, Hüseyin Taş- actor, İhsan Gökçen- actor, Işınsu Müjdem- solist, İsmail Hakkı Şimşek-writer, Kadir Çat- musician, Kahraman Oğuz- writer, Mahmut Karabulut- actor, Mehmet Tekkanat-actor, Mücahit Göker- musician, Necmiye Demir-actor, Ogün Kaymak-şair, Osman Oktar- actor, Osman Yılmaz- poet, Özgür Çelik- poet, Ramazan Velieceloğlu- film director, Selahattin Çam- writer, Serdar Keskin- writer, Serdar Türkmen- musician, Serdar Gül- musician, Tülin Şahin Okay- actor, Semir Polat- actor, Ufuk Yavuz- actor, Vedat Can İnan- solist, Velat İnanç- musician, Yasemin Mit- designer, Yeliz Güzel- musician, Yusuf Kenan Üçer- painter