Children's theater days in Qamishlo
Children's theater days at the Mihemed Şêxo Cultural Center in Qamishlo and in the Maşûq village of Tirbespiyê on August 12-14.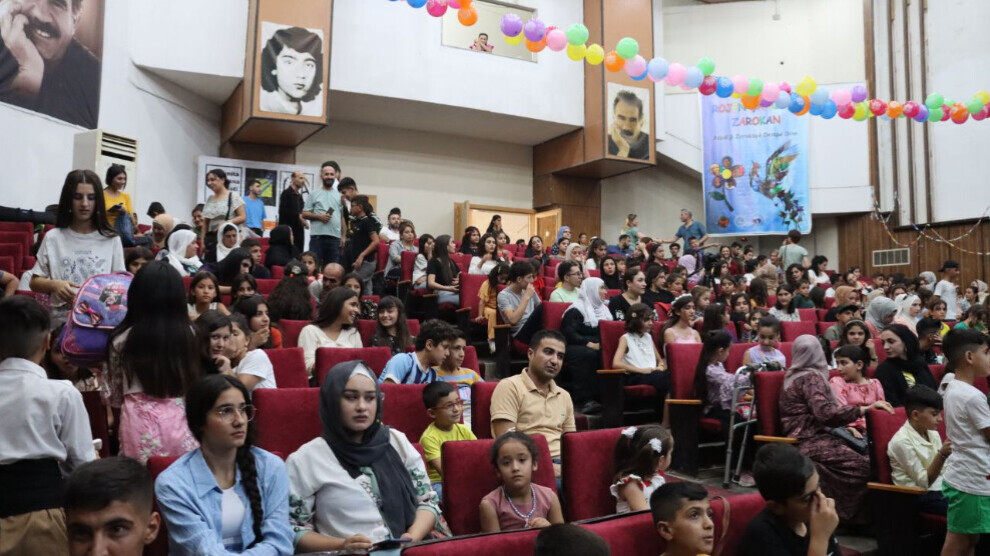 Qamishlo and the village of Maşûq in Tirbespiyê hosted the Children's Theatre days between 12 and 14 August. 
The children took the stage to show their new plays in Qamişlo and Tirbêspiyê. Previously, children had been performing in Rimêlan, Newroz Camp and Pargîn Culture and Art Institution.
Five children's plays were staged at the events between 12-14 August. A total of 9 plays have been performed since 5 August. The children's theater project allowed the creation of groups in several cities. 
The theatre project is promoted by TEV-ÇAND Cultural Movement, Hilala Zerîn Women's Cultural Movement and Şilêr Children's Committee.
The project benefits from the collaboration of international organizations that 'adopt' the children's groups, financing their training and work.
The first groups have already been adopted: the two groups in Kobane have been adopted by the Basque municipality of Durango (twinned with Kobane), the group in Derik has been adopted by the Italian NGO Fonti di Pace, the group in Heseke has been adopted by the Italian Società InFormazione, the group in Remelan has been adopted by Teatro degli Incontri e Teatro Ura and the group in Qamishlo has been adopted by the Comunità Brasiliana in Rome.