Church service on Akdamar Island in Van
A service was held on Sunday in the Armenian Cathedral of the Holy Cross on the Akdamar Island in the Lake Van. The Turkish government approves only one religious ceremony per year in the more than thousand years old church.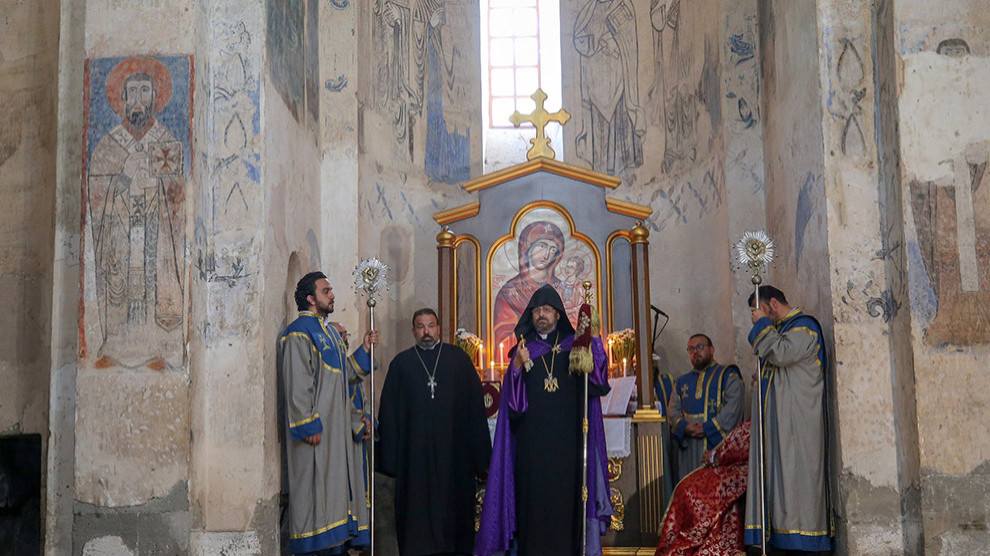 In the "Cathedral of the Holy Cross" on the Akdamar Island in Lake Van, an Armenian service was held on Sunday. The number of participants had been limited to 25 in advance by authorities due to the Coronavirus pandemic. The divine service was conducted by Sahag II Maschalian, the Patriarch of Constantinople of the Armenian Apostolic Church. This is only the eighth religious ceremony that has been held in the historic island church since its reopening as a cultural monument in 2007. The first divine service after 95 years took place in September 2010 with more than 4,000 participants. Ankara allows only one service per year.
Akdamar belongs to the Gevaş district in Van province and lies like a gift of nature in front of the panorama of the Artos and Sipan mountains. From 908 to 1021 the island was a palace of the Armenian kings of Vaspurakan from the dynasty of Artsruni. Until the First World War, Akdamar was considered the cultural center of the Armenians in the Ararat highlands.
In August 1916, almost one and a half years after the beginning of the genocide of Armenians - the first systematic genocide of the 20th century - the Catholic of Akdamar was abolished by a decision of the Ottoman Ministry of Justice and Culture. It was not until 2005 that the Turkish government decided to restore the over thousand-year-old building.