Grup Yorum member Dilan Ekin: "They can't succeed"
Dilan Ekin, a member of Grup Yorum, was detained on 8 May, along with 16 other people, during the police attack on the funeral of Grup Yorum member Ibrahim Gökçek.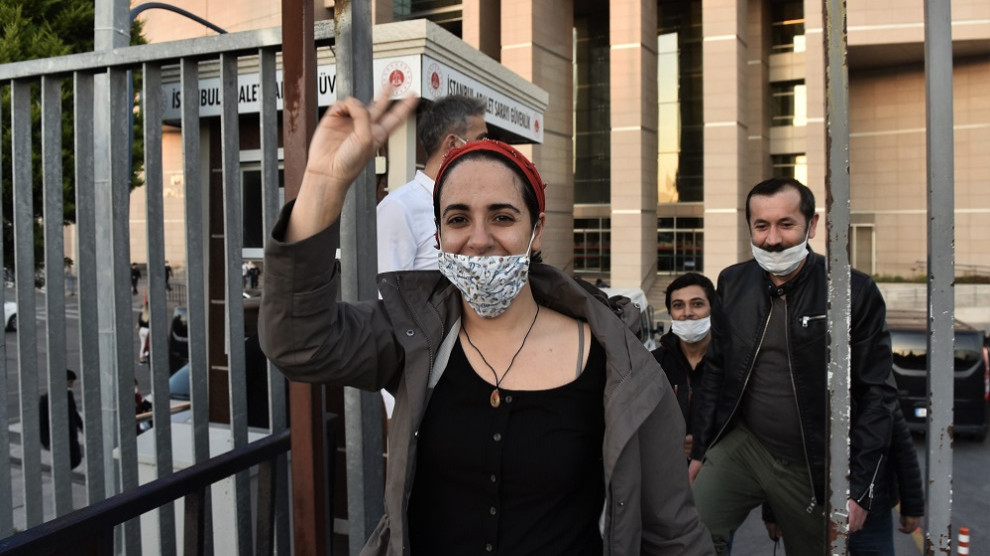 Ekin, who was released with a prohibition on going abroad, told ANF about her four-day detention.
Ekin, who was detained in front of the morgue gate of Gazi Cemevi, where the police abducted Ibrahim Gökçek's remains, said that they resisted the attack and added: "A funeral is an honor for us and we have claimed our honor. We stood in front of the morgue door to prevent the police attack."
Pointing out that they were tortured and insulted for four days, Ekin added that they were beaten the police from the moment they were taken into custody.
She added that although they were taken into custody by the Security Branch, they were kept in the detention centers of the Anti-Terrorism Branch. "They made a reverse handcuff and kicked us. They kept cursing us in the riot police bus. They systematically tortured Bahar Ertürk and Beyan Gün especially while searching them. They beat them for an hour, clenching their throats.
We couldn't see them but we heard their shouts. Our friend named Fırat Kıl got bad and was taken to hospital. Again, our diabetic friend Elif Tayyar was sick because she could not get sugar and water. They even tried to set times for going to the toilet. We did not accept this. They tortured us a lot, especially when they took our fingerprints. I have platinum in my waist since I fell from the second floor in the past and the police especially pressed the knee to the point where the platinum was located."
Reminding that they have been on hunger strike during detention against these inhuman practices, Ekin said that although they wanted to charge them with something, they were not successful. Ekin reminds that Grup Yorum members Helin Bölek and Ibrahim Gökçek had also been on death fast for months against been criminalised.
"They still insist on not understanding this. - said Ekin - Now they are threatening Ibrahim's remains. On the day of the funeral, hundreds of police officers and many riot police sieged Gazi Cemevi. They were afraid of Ibrahim's 30-Kg body. So they attacked the funeral because that 30 chilos body represented 35 years of Grup Yorum history. They wanted to intimidate Grup Yorum and the whole public using the body of Ibrahim Gökçek, but they failed. We turned this threat the other way around with our resistance. They should know that the Grup Yorum will continue to resist."